Home-made sushi with Chef Jorge Sierra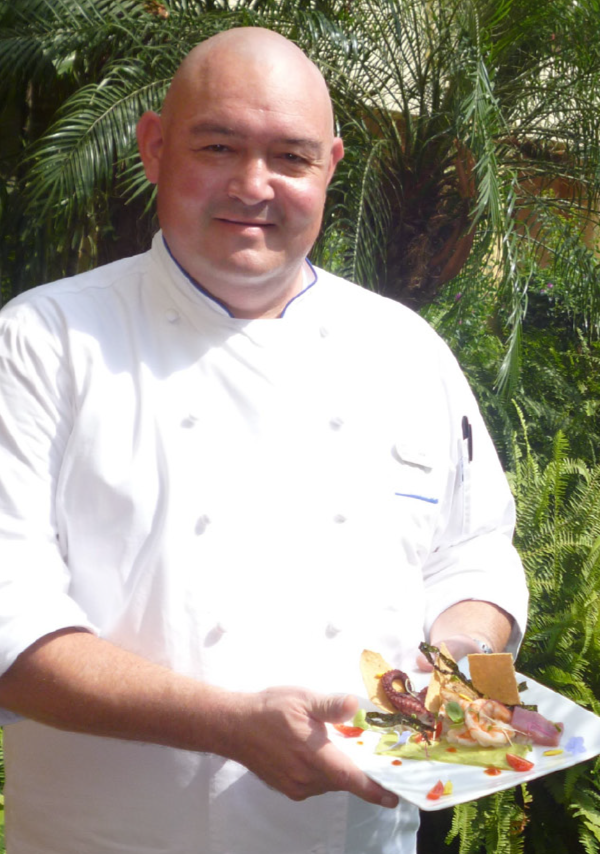 Studied gastronomy at the Universidad Iberoamericana (UIA), Le Cordon Bleu and Baleares School of Tourism. Executive Chef of Royal Caribbean International, InterContinental Group, Hilton Hotels and now for Velas Resorts at Velas Vallarta. Passionate about Mexican and Iberian cuisine as well as new culinary trends. Corporate Chef of Cicero Centenario Group, 1st place in Ritos and Retos of the Centro Historico 1997. Personal Chef for Sra. Maria Felix in Polanco, Mexico City.
Veracruz for the program Matutino Veracruz with Xavier Moranchel 2003 to 2005. Corporate Chef of OHG in charge of 32 industrial dining areas, with responsibility for over 700 kitchen employees and over 38,000 meals daily (2005). Recognition during Mexico's 1st Muestra Gastronomica in Warsaw, Poland by the IHG Group in 2008.
Executive Chef of Restaurante Antiguo San Ángel Inn, obtaining the Star Diamond Award in 2002. Participated as Chef during the presentation of the Star Diamond Award 2011 held at Casa Velas Boutique Hotel.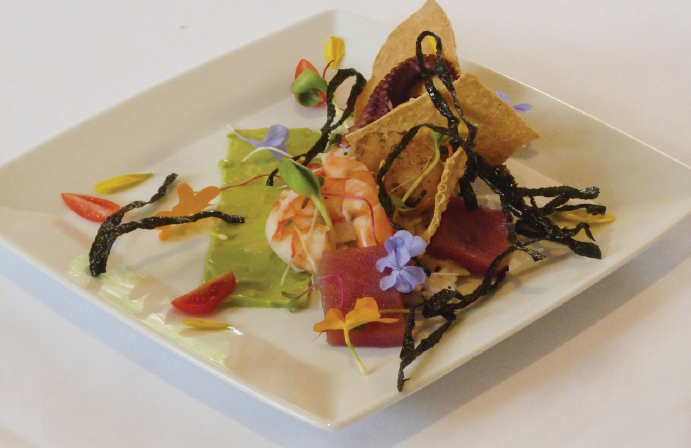 Ingredients:
Tuna 160 gr
Octopus 160 gr
Shrimp 160 gr
Scallops 160 gr
Avocado 200 gr
Cherry tomatoes 60 gr
Steamed rice 200 gr
Rice crackers 12 pz
Flower petals
Sesame seeds
Sprouts
Sriracha sauce
Rice vinegar 30 ml
Soy sauce 160 ml
Nori 1 sheet
Olive oil 50 ml
Sesame oil 50 ml
Preparation:
Seafood
Boil the shrimp (peeled and deveined) and octopus, slice the tuna into sashimi and grill the scallops. Season all seafood with salt and pepper.
Avocado
Purée the avocado until smooth. Season with salt and pepper.
Rice
Steam the rice with vinegar mirin, salt and pepper.
Presentation
Make a layer of puréed avocado, topped with a layer of steamed rice. Arrange the seafood on top of the rice and decorate with flower petals, sprouts, rice crackers, nori, drops of sriracha sauce and cherry tomatoes.