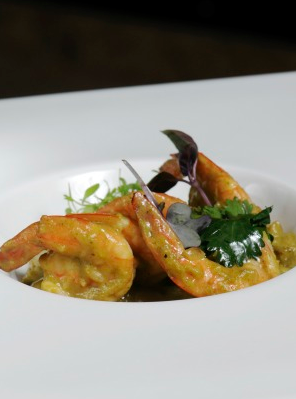 By Chef Daniel Garcia
Translated by Nyima Bieber
Serves four
Preparation time: 20 minutes
Difficulty: Easy
Category: Main course
1 tbs. butter
1 tbs. olive oil
50 gr. finely chopped onion
20 gr. finely chopped garlic
8 shrimp, peeled and deveined
50 gr. chicharron kastacán (soft Mexican pork rinds)
100 gr. green tomatillo salsa (recipe below)
1 tbs. sour cream
Salt and pepper to taste
Garnishes: sprigs of cilantro and basil
Preparation:
Heat the butter and olive oil over medium heat, and add the onion and garlic and allow to soften for one minute. Add the shrimp. When cooked almost through, add the chicharron and allow to cook for several minutes until it releases its juices. Add the green salsa and finally the sour cream. Season with salt and pepper.
Serve in a bowl with plenty of sauce. Garnish with cilantro and basil. May be served with rice if preferred.
To make 1 liter of Green Tomatillo Salsa (Salsa Verde):
Boil 200 gr. tomatillos and 100 gr. onion until soft. Purée in the blender with a glove of garlic and 50 gr. cilantro. Add salt and white pepper to taste.
Enjoy!
(Crossposted from El Universal)