A well-deserved vacation before welcoming your new baby
The sweet period of waiting is almost coming to an end; close to nine months of following the growth and stages of your baby, feeling how he or she grows little by little, and feeling the anticipation of holding your new bundle in your arms. Those of you who are parents already know that the excitement only increases near the end, but so do your levels of stress.
Whether you're new or experienced parents, we invite you to take a look at this plan for spending your last days of freedom before welcoming your  new baby.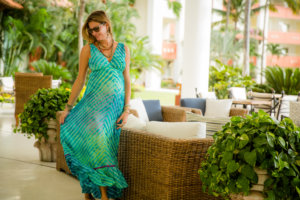 Riviera Nayarit is the chosen setting, with warm weather that brings a range of health benefits to expecting moms; just remember to stay cool and hydrated! Higher temperatures increase vitamin D levels in the body, promote brain function and improve memory, as well as having a positive effect on the heart and lungs – if you're traveling from a colder city, your body will thank you.
Grand Velas Riviera Nayarit has designed a special program for future moms and dads to enjoy time together on a beautiful Mexican beach while spoiling the mom-to-be; and this perfect plan has a name: Babymoon.
To be pampered
No detail has been missed by Grand Velas when it comes to pampering moms in every way. The "Maternal caress" massage releases tension in the legs and hips with delicate pressure and natural essences to hydrate the skin while activating elasticity. It is complemented by a 100% organic facial to leave a radiant appearance. The wellness experience ends with a hydrothermal circuit called a Water Ceremony; the journey consists of seven stations that leave you with a relaxed sensation and help you reconnect with your inner being. While Mom enjoys her experience, Dad can also choose from the menu of beauty and relaxation treatments.
To get energized
You can choose to start the morning with an oceanfront yoga class and continue with your fitness plan, guided by a professional teacher that will make sure you keep your own pace. And even though the gym offers all the LifeFitness equipment one could need, nothing beats a walk on the beach to admire the natural beauty that surrounds the resort.
Healthy nutrition
What distinguishes Grand Velas is that the culinary experience can be adjusted to suit the needs of every guest, especially mothers-to-be who are paying special attention to what they eat. The resort's daytime restaurant, Azul, is a display of panoramic views of the Pacific Ocean and has an extensive à la carte or buffet menu including seemingly endless healthy options: freshly squeezed juices, salads, fresh fruit and vegetarian options. The three specialty restaurants (French, Mexican and Italian) will take care of everything once they know you have special nutritional requirements; so allow yourself to be pampered by delicious dishes prepared just for you.
An unexpected detail
Your personal Concierge will do everything in his/her power to coordinate the activities you would like to schedule that day, can help select special items for your in-suite mini bar, and even help dad prepare a surprise with some unexpected detail (such as a romantic dinner on the beach, or a picnic in the garden). Executive Chef Guillaume Morancé also provides cute little cookies decorated with motherly messages to be placed in the suite, along with a customizable card for dad to write a sweet message.
Tip: Although this trip is perfect for friends or family who would like to join the future mom, it is ideal for dads who would like to surprise moms with a stay.
Celebrate the upcoming arrival of your baby and spend time relaxing together as you wait for the big day. Have a fantastic trip!