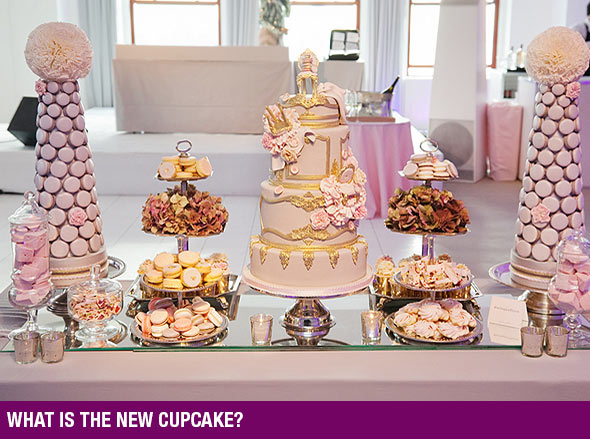 I am constantly asked if the cupcake trend is over. For the past decade, this simple confection has certainly made a huge impression on the world, reigning supreme in weddings for longer than I thought it would have lasted. It has been the single biggest trend in sugar in a long while. Here are some sweet trends inching in and hoping to take the cupcake limelight away.
The macaron seems to be the leading competitor. The best in the world are from Ladurée in Paris, but if you're looking stateside, you'll find them in NYC on Madison Ave. (For more places to find their shop, click here.) From color to flavor, they offer many creative options. Use them pavéd on a shape or form, or include them between the tiers of your wedding cake.
Donuts are next in line. They are a familiar, low-cost comfort food that, when piled artfully high on a serving piece, look somewhat kitschy but always delicious. Consider a tall, tiered tray of delectable fried dough treats.
"It's meant for a bride with a sense of whimsy," says Maggie Ruggiero, an expert food stylist who has worked with wedding emporium BHLDN to feature this deep-fried confection. Plus, they are versatile. "Donuts pack so easily that they could be transported anywhere, from a country meadow wedding to a city rooftop soiree. Guests can simply pluck their share themselves and carry it about on a small plate." No fork required.
Dessert in a jar is one of the newest entries in the pastry world. These desserts are prepared, and even baked, right inside the glass jars that they are eaten from. "All that is necessary is a proper utensil, a simple fork or spoon," explains Shaina Olmanson, author of Desserts in Jars. Individual portions of flavors like Vanilla Bean Cupcake, Strawberry Shortcake and Neapolitan Cake fill clear Mason jars for a gorgeous presentation. Add labels or gift tags with your names and wedding date and you have favors to pass along to your guests at the end of the night.
Lastly, gourmet pudding, another comfort food, like those offered at Puddin' by Clio is also gaining in popularity. Play with the pudding/topping combinations, mixing whipped cream, caramel or even crunchy cookie pieces in between decadent layers of chocolate, vanilla or banana pudding. If you want to experiment with flavor, she even offers exotic options like passion fruit, dulce de leche, roasted cashew or chocolate malted.
As always…more to come!
(Cross-post: What is the new cupcake?)