Vallarta-Nayarit Crocodile Sanctuary is a Wild World of Reptiles
Hidden away in Vallarta-Nayarit's dense mangroves sits the natural reprieve of El Cora Crocodile Sanctuary. Here, biologists offer tours, close encounters w/ baby crocs, as well as an evening buffet feast & fire show the last Saturday of every month.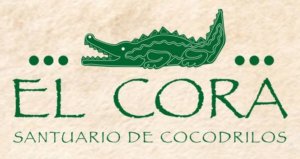 Interact with Magical Beasts at Vallarta-Nayarit Crocodile Sanctuary
What:
Cocodrilario El Cora
Near Flamingos Golf Club
Bucerias
Hours:
11am-6pm
Closed Wednesdays
Donation:
200 pesos
Deep in the mangroves of Riviera Nayarit hides a testament to the fact that crocodiles are graceful, mystical creatures – not the ferocious killers many people mistakenly think. Rubén Saavedra is a local biologist, dedicated to correcting these misconceptions. One way he's doing so is promoting tours of El Cora Crocodile Sanctuary in Vallarta-Nayarit. Often acting as guide, he escorts curious travelers through the rustically preserved oasis, educating them about the world's most misunderstood reptiles.
Hold Baby Crocs & Marvel at Giants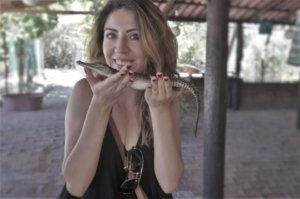 Throughout the tour you might be invited to touch a "teenage" crocodile, watch a 9-foot mammoth feed, or even hold a baby for pictures. But be careful. The minute you let one of these little cuties cuddle up with you, you'll want to take them home.
A Rustic Mangrove Reprieve
As an animal sanctuary, El Cora is home to more than just crocodiles. You'll also find a colorful collection of friendly badgers, peccaries (wild pigs), turtles, parrots, and goats. Many of these creatures are here for rehabilitation and care from onsite veterinarians, so residents may change before your visit.
The Ceremonial "Night of Legends"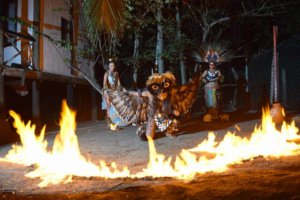 A new feature is their monthly fire show and buffet dinner, "Night of Legends." Hosted the last Saturday of every month (7:30-10:30pm), it combines a sanctuary tour with an ancient fire ceremony – "The Ancestral Legend of the Crocodile" – from the Kalpulli Osteocoatl Chalchitlicue Indians. Live music accompanies your feast as well, under the stars in the heart of the mangrove. Visit El Cora's Facebook page for details as to reserving your spot at the next event.