Vallarta celebrates gastronomy in the style of 'Old Vienna'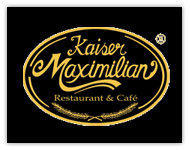 by Vanessa Martínez del Río
Featured on the select list of restaurants that captivate palates in the now-named "Gourmet Destination" of Puerto Vallarta is Kaiser Maximilian; a favorite for 17 years among visitors and local residents.
The restaurateur at the helm of this dynamic Austrian venue, Andreas Rupprechter, forms part of the eighth edition of Restaurant Week, held from May 15th to 31st. The event celebrates the pleasure of fine dining in the city's best restaurants, with low prices and up to 50% discounts.
With a menu highlighting traditional onion soup with white wine, croutons and melted cheese, and Wienerschnitzel that would delight the Emperor Maximiliano, with breaded pork loin, potatoes and Austrian salad, Kaiser Maximiliano takes advantage of this special occasion to also celebrate its 17th anniversary.
Location: Olas Altas 380-B
www.kaisermaximilian.com