A Wet & Wild Puerto Vallarta Boat Ride Sure to Leave You Breathless
Looking for a wet, wild adventure to get your adrenaline pumping? Book an hour-long Tsunami Jetboat ride, reaching speeds up to 60mph as it spins 180-360 degrees across the surface, then drenches passengers in a one-of-a-kind underwater nosedive.
Get Soaked with Thrills on a Wild Puerto Vallarta Boat Ride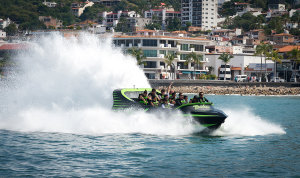 What:
Tsunami Jetboat
Where:
Calle Mástil 14
Marina Vallarta
When:
Monday-Saturday
Hourly, 9am-2pm
Tickets:
$35 USD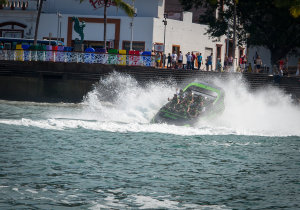 A high-speed treat for vacationing thrill seekers, the hottest boat ride in Cancun just landed in Banderas Bay. When it comes to ways you can hit the water during your stay in Puerto Vallarta, Tsunami Jetboat is a wildly unique experience. Outfitted with 1,200 horsepower water turbine engines, these one-of-a-kind boats offer rides that are 100% pure adrenaline, highlighted by more than a few healthy drenchings along the way.
"The Rollercoaster of the Sea"
As you step off the boat, you'll wonder how there's still any water in the Bay. That's because not only do Tsunami Jetboats make incredibly tight, 180 and 360-degree turns, they actually dive, too! At speeds approaching 60mph, such sharp spins and zooming maneuvers create sizeable waves. This is where the boats get their name, nosediving beneath the swells they create, drenching passengers in a tsunami of seawater.
A Few Things to Remember
Life vests and lockers are included in your ticket, so be sure to safely stow anything you may not want to get wet before the ride. If you have a waterproof camera, you may want to consider bringing it, along with the following:
Towels
Swimsuit
Sunscreen
Water-Safe Shoes
A Fresh Change of Clothes
Cash (for souvenirs & tips)
Book Your Ride Today
While online booking is still being perfected, feel free to stop by the Tsunami Jetboat office in Marina Vallarta, email them at contacto@tsunamijetboat.com, or call 322.209.0491.