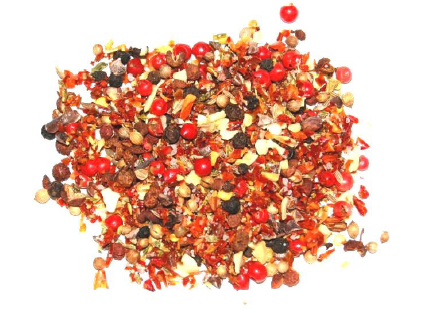 ACHIOTE– Achiote is a natural seed. It has a sour, bitter flavor. You can easily find this spice in the form of a paste, which you dissolve with orange and lemon juice along with some olive oil and garlic. We can assure you that achiote on a nice fresh piece of fish will make for a meal your friends and family will never forget.
EPAZOTE– Epazote is a fine herb with a refreshing, sour flavor. This herb is very useful for any type of marinade. From a light fish dish to a lamb shank roast, this herb can provide a refreshing twist of flavor to any of your main courses.
HABANERO CHILI– "The spiciest one". Roasted with lemon juice and a few drops of olive oil, the flavor of habaneros will kill any doubts about that statement. Dare to taste it- this chili promises an exquisite explosion of heat and delicious flavor in your mouth.
CHIHUACLE CHILI – Originally from Oaxaca, this chili has a very mild flavor. Combine it with beef and grasshoppers, Oaxaca-style, for a delightful and fun dish to impress your loved ones.
CILANTRO – Cilantro is a classic Mexican herb that can't be missed in any dish. It is one of the most refreshing flavors you can find. Try it on anything and see why it is this country's favorite.
Visit our section Restaurants in Puerto Vallarta.