Things to Do in Bucerías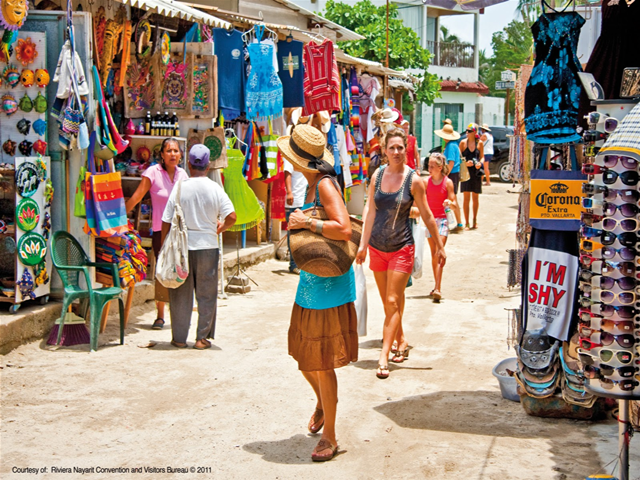 Bucerías is another one of the small towns that make up Vallarta-Nayarit. It's an easy place to find nice, cheap accommodations. If you are on this side of Banderas Bay and don't know what to do, not to worry. I'll tell you three things you can do in this corner of the Mexican Pacific.
Visit the beach
The long, sandy beach of Bucerías has hosted several extreme water sport tournaments. Even if there are none scheduled during your vacation you're sure to see people practicing. Here you'll gain a new appreciation of surfing and kite-surfing while enjoying the sun, sand and sea in one of the best climates in Mexico. Driving north, there are many other beautiful beaches that you can visit after Bucerías, such as Sayulita and San Pancho.
Enjoy the gastronomy
Gastronomy is one of the highlights of Vallarta-Nayarit, where there are several food festivals throughout the year showcasing the gourmet specialties of the area. You'll also love the delicacies sold on the beach of Bucerías – las varitas de camarón (shrimp skewers) and las piñas locas (crazy pineapples) are favorites among tourists and locals alike.
Experience the natural wonders of the area
In Vallarta-Nayarit you will find many natural wonders to discover, and many are also easily accessible from Bucerías. You can start with the Hidden Beach, a must-see attraction famous for its peculiar shape. Go snorkeling at The Arcos of Vallarta or visit the hidden waterfalls of Palo María and the Edén. There's an option for every day of the week.
If you were wondering what to do in Bucerías, now you've got a few great choices. Oh, and ask a local about the urban transportation routes -they will save you a lot of money. Bucerías locals can also recommend some of the best places to eat.
Have you been to Bucerías? Tell us about your experience!
¿Buscas la versión en español?