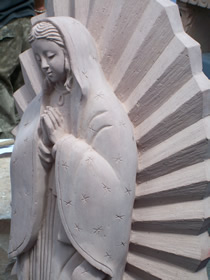 "Las fiestas de Guadalupe" or the Guadalupe's celebrations, are the Mexican celebration of the apparition of "Nuestra Señora". They are taking place all over the country from December 1st to the 12th and it is an event you definitely want to witness in Puerto Vallarta.
Practically all the shops, hotels, restaurants, neighborhoods and civil associations organize their own procession to the main square where the beautiful Guadalupe Church is located, to take part in the special mass dedicated to the Virgin. During twelve days, day and night, the heart of Puerto Vallarta is transformed into a giant stage to host this timeless celebration. December 12th, the climax day of the "fiestas", is in addition Puerto Vallarta's birthday, as 158 years ago Don Guadalupe Sánchez Torres founded brought his family to the Bay and gave birth to Puerto Vallarta on the actual Rio Cuale's Island area: another very good reason why you don't want to be anywhere else that day.
The bigger groups perform folk dances and their processions have nothing to envy to the best traditional parties you can find. The scent of copal and the feathers of the Aztec dancers mixed to the holy and mystical atmosphere of the religious celebration will take you back over 500 years ago for a trip you are not ready to forget.