The 10 Best Puerto Vallarta Coffee Shops & Cafés for Relaxing
Few things embody a vacation like coffee & cocktails, married deliciously at a number of the 10 best cafés in Puerto Vallarta. If you prefer the perk of coffee without the buzz, might we recommend a spicy Mexican mocha or refreshing frozen frappé?
Why are there so many deliciously artful cafés in PV? Part of the reason is the special place coffee holds in the heart of travelers. Whether used as a peaceful part of starting the day, a tonic for the night before, or pick-me-up to hit the town, it's the perfect accent to every vacation. Another reason you'll find so much coffee in Puerto Vallarta is the fact that Mexico is increasingly known for its quality of beans, especially those sourced right here in the Sierra Madre Mountains. As for where to find the best cup, here are our 10 favorite local spots:
Café Madero
Rodolfo Gómez #106
Head to this quaint shop in Emiliano Zapata for the best riffs on classic drinks you love.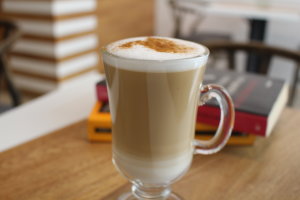 Café Canela
Lucerna 107-A
Don't leave PV without trying at least one of their famous frozen frappés. Popular flavors include the Chai with a shot of espresso, Oreo, and Cinnamon.
The Coffee Cup
Olas Altas 471
Head here early to watch the sunrise reflect off boats in the Marina as they head out to sea, washing down the best chocolate croissant in town with a legendary latte.
Café Pomelo
De Los Tules 168
If you want a little buzz in your cup, this is one of the best spots to come, where coffee cocktails often feature Baileys, fresh fruit, and Mexican chocolate.
A Page in the Sun
Lázaro Cárdenas 179
Books and coffee go together like coffee and cream at this friendly bookstore café. Be sure to grab a bag of locally sourced Sierra Madre beans and take the flavor home.
Café Cafesto
399 Olas Altas
Their spicy café mocha has a sneaky kick, best enjoyed hot to the sound of live guitar every weekend.
Café San Angel
Olas Altos 449
People come here for their oft-craved chicken chilaquiles, but the made-to-order coffee is unparalleled as well.
Café Aroma
Calle Encino 287
Another foodie haven, the sticky sweet cinnamon rolls here will change your life, made all the better washed down with a hot chai latte.
Natureza Deli
Francia 137
A lovely place for crepes, panini, seasonal smoothies, and well-balanced coffee.
Kaiser Maximilian Restaurant & Café
Olas Altas 380-B
Distinctly European yet delightfully PV, the sidewalk seating is a must – as is the Café Mexicano, spiced up with Kahlua and tequila.