SUP Yoga in Puerto Vallarta and Riviera Nayarit is a Blissfully Scenic Start to the Day
Picture yourself stand-up paddleboarding out to sea, dropping anchor, then gracefully moving pose to pose under the rising sun, surrounded by the bright blue waters of Banderas Bay & jungle-green Sierra Madres. This is SUP yoga in Vallarta-Nayarit.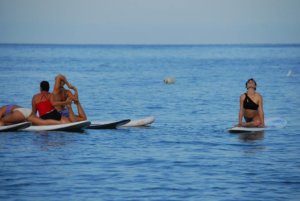 Center Yourself at Sea with SUP Yoga in Vallarta-Nayarit
Instructors:
Price:
$500 MXN
Do you love yoga or stand-up paddleboarding (SUP)? Whether you're proficient at both, neither, curious about one or the other, nothing compares to the mindful magic of morning classes on Banderas Bay with the fully trained and certified instructors at SUP Yoga Vallarta. Puerto Vallarta is one of the most gorgeous places in the world to learn the serene synergy of the world's fastest growing water sport and one of its oldest forms of exercise. No matter your experience level, SUP Yoga Vallarta caters each lesson to everyone, from beginners in both facets of the practice to avid practitioners.
Start Your Day on Blissful Banderas Bay
Based at some of the most pristine beaches in Vallarta-Nayarit, lessons begin with warm-up stretches on the shore and a brief tutorial on paddleboard that's matched to you. You'll then paddle out into Banderas Bay, drop anchor, and enjoy 45-60 minutes of hatha yoga, surrounded by sky-blue waters glistening in the rising sun, PV's artful coast, and the towering Sierra Madre Mountains.
Paddle Your Way to Peace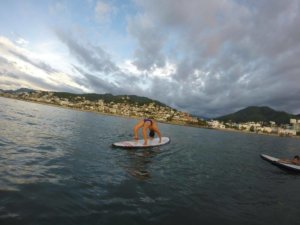 Yoga is all about balance. This fact is made all the more tangible when practicing on a paddleboard in the middle of the Bay. Taking this into account, two different types of classes are offered. SUP Yoga Fitness incorporates strength training routines like crunches, planks, and climbers, followed by a dip in the water. A more traditional session, SUP Yoga focuses on the mind-body marriage of hatha, with meditation, the sun salutation, and asanas. As for what's offered, keep an eye on their Facebook page. A few upcoming classes and events include:
March 5th, 8-9:30am – SUP Yoga Fitness in Bucerias (Lázaro Cárdenas No.17)
March 8th, 8-9:30am – SUP Yoga Fitness at Barracuda (Paraguay 1290)
March 12th, 8-9:30am – SUP Yoga in Vallarta (Pulpito 102)
Private SUP Yoga lessons are available for $1,000+ MXN.
An April SUP Yoga Retreat is also being planned, so stay tuned!