Southern Banderas Bay Beaches Beckon with Tropical Beauty
You can't go wrong when it comes to the beaches of PV, but if you crave a quieter, more rustic taste of coastal Mexican culture, you'll want to venture south to the secluded sandy stretches of Cabo Corrientes, from Mismaloya to Majahuitas.
The Remote Reprieve of Southern Banderas Bay Beaches
A short drive along the coast or scenic boat ride on the bay delivers curious travelers seeking a quiet day by the water to some of the most gorgeous beaches near Puerto Vallarta. Many of these legendary stretches of white and golden sands lie in Cabo Corrientes, and are accessible only by boat. Others beckon adventurous hikers to hit the trail between stops, navigating the jungle that skirts the shoreline. If you choose to venture south (and you certainly should, if time permits), here are a few of our favorite Banderas Bay beaches:
Mismaloya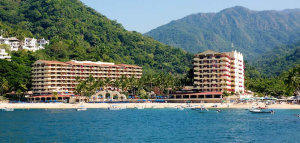 Many argue that Puerto Vallarta owes its notoriety to this quaint village, just nine miles away. Why is that? Because Mismaloya is where John Huston fell in love with Banderas Bay as he scouted locations for his 1963 film, "The Night of the Iguana." Once word got out how much he and Hollywood superstars Elizabeth Taylor and Richard Burton cherished the area, tourists came in droves. And it's no wonder, as Mismaloya beckons with a small beach cove, calm, clear water, river rockslides and waterfalls at El Eden, Mamá Lucía tequila factory, Vallarta Zoo, as well as the ecological reserve of Los Arcos, only half a mile out to sea.
Las Animas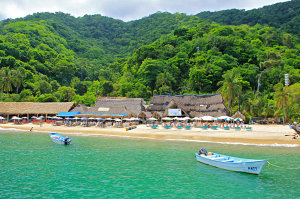 Waves as soft as the sand make this spot a hit for travelers who crave a laid back spot with all the recreation of Puerto Vallarta. Banana boat rides, parasailing, and ziplines all await, along with some of the tastiest oysters in the bay.
Quimixto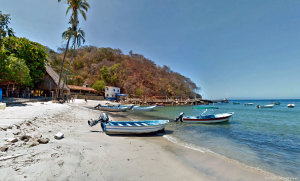 With no roads in or out of the village, local ranchers wait at the beach with their horses, ready to whisk visitors to Quimixto's famous waterfalls, about 1 mile inland. Don't miss out on the fresh-caught seafood served at the beachfront eateries.
Majahuitas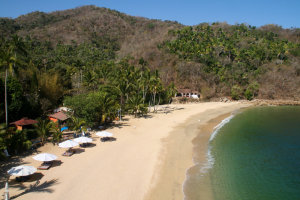 Still further west, this secluded stretch is known for its incredible snorkeling and scuba diving, as the underwater caves and reef are rife with the likes of sea cucumbers, pufferfish, parrot fish, and angelfish.