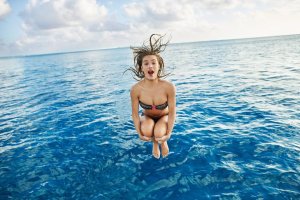 Do you know what to do the next Holy Saturday? if you don't, I introduce you an excellent choice which implicates sun, sea and sport: Roxy Fitness 2016, the event that is moving all women in the world arrives for the first time to Riviera Nayarit.
The Roxy brand, specialized in sportswear for women, has innovated with this concept. Thousands of fitness life lovers have gathered on the beaches of Barcelona, Hawaii, Huntington, Puerto Rico, Panama, among others, with the purpose to hang out and play sports.
This year the beach hotel Hard Rock Vallarta has been selected as the host of the Roxy Fitness 2016, where participants will participate in the following three activities: A race of 5 kilometers along Avenida Cocoteros, where they could admire the wonderful hotels that are in the zone; a yoga class with one of the best teachers in Mexico; and finally, three kilometers of SUP (Stand up paddle) in the hotel beach. You will enjoy beautiful landscapes of the area!
The event will take place on Saturday March 26th, and many personalities will be there, as well as professional athletes in each discipline.
To end up this exciting and funny day, a tent will be located and a DJ will be playing the hits of the moment. Attendees will be able to share some tips and experiences within the fitness life.
If you dare to be part of this, the registration process is now open! You just have to buy a Roxy garment in one of the participating stores and fill out a form on the official site. For any doubts or signing up, please visit: www.roxyfitnessmexico.com.
Now you have this excellent choice among the thousands of activities offered at Vallarta-Nayarit. Fly to this destination and enjoy your vacation in paradise!
Photo credit: RoxyMexico