Romantic Couples Vacation in Puerto Vallarta
by Julieta Del Toro
When one thinks of Puerto Vallarta, the beautiful and romantic sunsets immediately come to mind; blazing orange and pink streaks slowly submerging in the emerald waters of the Pacific. Imagine being able to enjoy this marvelous scene in the company of your partner on a luxury sailboat as it travels through the crystalline waters of Banderas Bay, delicately caressed by the breeze. Or maybe you prefer to walk hand in hand with this special person through the Romantic Zone of Puerto Vallarta.  
As the sun goes down you and your partner can delight in exquisite wine and a romantic dinner as you traverse the length of the coast near the Malecón, where the lovely sunset tones enchant the downtown area. 
Travel past the bohemian section that extends from both sides of the Rio Cuale, the most romantic area due to its cobblestone streets and beautiful view of the mountains and the sea. Admire the temple of Nuestra Señora de Guadalupe, with its lovely cupola (a replica of the crown worn by the Empress Carlota in 1860) and end with an enchanting evening in one of the many restaurants that offer delicious cuisine and wonderful atmospheres to make this a moment to remember.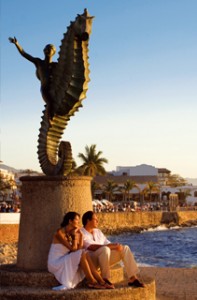 Whether celebrating a birthday, honeymoon or a simply a special time for you and your partner, we assure you that you will have an amazingly romantic experience in Puerto Vallarta.
. . . . . . . . . . . . . . . . . . . . . . . . . . . . . . . . . . . . . . . . . . .