Riviera Nayarit Shopping Marries Mexican History with Modern Edge
As you tour your way through Riviera Nayarit, consider the countless shopping options – from handmade jewelry in San Pancho to art walks in both Bucerias and Puerto Vallarta, not to mention weekly outdoor markets in every city on the coast.
Decorate Your Life with Days Worth of Riviera Nayarit Shopping
When you travel, the last thing you want to bring home is something you can get just anywhere. You want a unique slice of life from the place you visited. Be it a piece of handcrafted jewelry, shirt, dress, art you hang on the wall, sculpture you display, or a jar of your favorite homemade salsa, you'll find it all shopping in Riviera Nayarit.
Modern & Traditional Artwork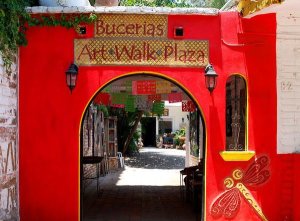 The great thing about galleries and art spaces along the Riviera is that they tend to feature an eclectic mix of modern voices and the traditional work that's inspired them. Steeped in artistic tradition, every village has a rich selection to consider, from furniture at Kim Cawood in Punta de Mita (Las Redes No. 10) to ethereal paintings at Splurge Art Gallery in Bucerias (Lazaro Cardenas 60). Other highlights include San Pancho's Huapango Arte Mexicano, as well as both Puerto Vallarta's Centro Historico ArtWalk (Wednesday, 6-10pm) and Bucerias Art Walk (Thursdays, 7-9pm).
Handmade Jewelry & Cutting Edge Fashion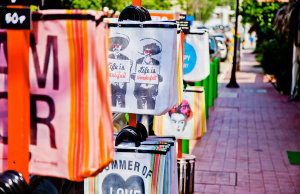 Traditional forms of wearable expression across Mexico for centuries, jewelry and fashion are two of the most prominent art forms the nation is known for around the world. The bohemian town of Sayulita is known for both, full of crochet bikinis, iconic Mexican t-shirts, and reverent riffs on classic clothing designs. Highlights include fashion at Revolucion del Sueno (Navarrete 55), and pieces from Tatehuari Jewelry in neighboring San Pancho (Av. Tercer Mundo 90-A).
Bustling Weekly Markets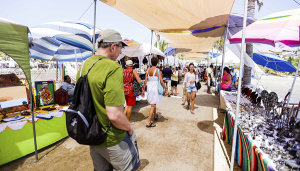 The outdoor tianguis is an ancient Mexican custom, every village hosting one in or near their central square at least once a week, November-April. Brimming with artists, live music, authentic food, local produce, and fresh-caught fish, a few of the best in Riviera Nayarit include:
Bucerias Monday Market in Art Walk Plaza (62 Lazaro Cardenas), 9am-1pm.
Guayabitos Market in Rincon de Guayabitos, Mondays from 8am-1pm.
Mercado San Pancho in Plaza del Sol, Tuesdays from 10am-1:30pm.
Mercado Marina Art Market in Marina Vallarta, Thursdays from 6-10pm.
Sayulita Mercado del Pueblo on Revolucion Street, Fridays from 10am-2pm.
PV's Old Town Farmers Market in Lazaro Cardenas Park, Saturdays from 9:30am-2pm.
Tianguis Lo de Marcos at Luis Escheverria #9, Saturdays from 9am-2pm.
La Cruz Market (Mercado Huanacaxtle) along the marina walkway, Sundays from 10am-2pm.