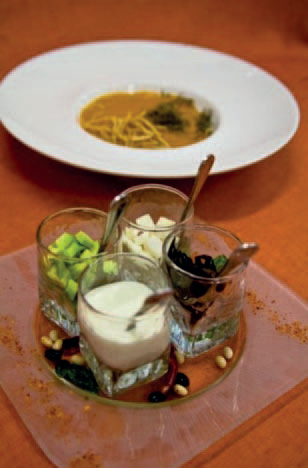 Ingredients
2 tsp. corn oil | 2 cups roughly chopped tomato | ¾ cup chopped onion | 1 tablespoon minced garlic
| dry guajillo chilies | ½ cup chicken broth | 8 epazote leaves
 
Garnishes
Garnishes | Finely cut fried tortilla strips | Julienned guajillo chili | Crumbled panela cheese | Cubes of avocado
 
Directions
In a soup pot, brown the onions in the oil over medium heat. Add the garlic and the tomato. Rehydrate the chilies in boiling water for 5 minutes. Remove from heat, devein and add to the pot. Add the chicken stock and allow the mixture to boil for 12 minutes, seasoning with salt and pepper. Add the epazote and remove from heat. Allow to cool for several minutes.
 
Ladle into a shallow bowl and allow guests to top with their choice of garnishes.
 
For more information about our restaurants in Puerto Vallarta, please click here.