A Puerto Vallarta Taco Festival & Mexican Cultural Extravaganza
How better to sample the wonderful world of tacos than at a two-day party dedicated to everyone's favorite foldable meal? April 15-16th, the Festival del Taco Puerto Vallarta 2017 serves up offerings from 20+ local taquerias, tequila, & icy cerveza.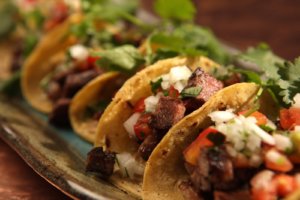 Mexican Culture Abounds at this Puerto Vallarta Taco Festival
What:
Taco Festival Puerto Vallarta 2017
Where:
El Jardin de la Luna
Francisco Ascencio 2500
When:
April 15-16th
2-10pm
Admission:
FREE!
The magic of freshly grilled meat, fried fish, or veggies, topped with salsa and folded in a warm tortilla is a cornerstone of Mexican cuisine. This is the taco, as versatile as a culinary template can get. Tortillas can be handmade from corn or flour, served soft or fried crisp. Fillings range from slow-roasted pork to smoky goat, grilled steak, shredded chicken, fried fish, shrimp, avocado, mushrooms, chorizo – the options are literally endless. With literally hundreds of taquerias making mouthwatering tacos in Puerto Vallarta, it makes sense that we celebrate the ubiquitous dish with a two-day fiesta, Festival del Taco PVR, April 15-16th.
More Fun Than You Can Fit In A Tortilla
Because tacos play such a central role in Mexican culture, a party dedicated to their deliciousness ought to highlight as many other national treasures as possible. That's why you'll find nonstop entertainment, such as world-famous Lucha Libre (Mexican wrestling), live music, dancing, art, contests, auctions, and raffles, as well as tequila tastings and taco pairings with craft beers, local wine, and cocktails.
About Those Tortillas…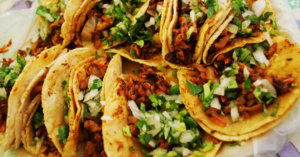 Most of the festival's 20+ taquerias – ranging from PV's most popular street vendors to fine dining restaurants – will be making their own tortillas fresh onsite, alongside a rainbow of salsas for topping. As for what's going in the tacos themselves, oft-craved fillings include:
Al Pastor: Marinated pork slow-roasted on a vertical spit (like chicken shwarma), shaved off and topped with pineapple.
Chicharron: Crispy fried pork belly.
Fried / Grilled Fish & Shrimp: Fresh-caught, hot, delicious.
Barbacoa: Smoky slow-steamed goat, lamb, or beef.
Suadero: Thin fried steak.
Carne Asada: Grilled steak.
Pollo Asada: Grilled chicken thighs.
Vegetarian / Vegan: Popular options include local mushrooms, fried avocado, seitan (wheat gluten), and huitlacoche corn "truffles."