Puerto Vallarta Sea Lions Are Among the Friendliest in the World
Swimming with dolphins can be memorable, but if you're looking for an unforgettable animal experience that feels like time spent with a funny new friend, contact Vallarta Adventures to set up an interactive & always entertaining Sea Lion Encounter.
Fall Under the Side-Splitting Spell of Puerto Vallarta Sea Lions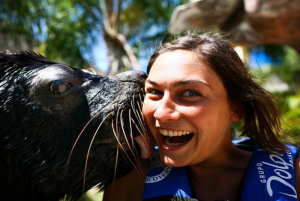 You've heard them barking at beaches, seen their hilarious shows in water parks, and marveled at how much the look like man's best friend, but have you ever had a chance to actually frolic and make friends with sea lions? In Puerto Vallarta, up close and personal encounters with these "class clowns" of the animal kingdom are available all year, from petting them in a specially designed pool to scuba diving alongside them to depths of up to 120 feet. One of the most trusted sea lion tour providers in Banderas Bay is Vallarta Adventures, offering these once-in-a-lifetime experiences:
Sea Lion Encounter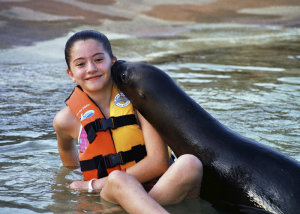 Adults: $89, Kids (ages 5+): $67
Monday-Saturday
Join everyone's favorite flippered pranksters in their specially designed educational pool, complete with a waterfall, caves, and interactive standing area for no more than eight people each sea lion. Such intimacy practically guarantees you'll forge enough of a friendship to get a slippery hug, or maybe even a "sea puppy" kiss!
Sea Lion Encounter at Las Caletas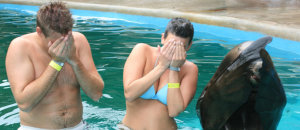 Adults: $178, Kids: $139
Monday-Saturday
Add sea lion time to a day of adventure and relaxation at Las Caletas Beach Hideaway, made even sweeter with kayaking, paddleboarding, a Kids' Park, Mexican lunch buffet, hilltop spa, and hammocks swaying by the water.
Sea Lion Scuba Diving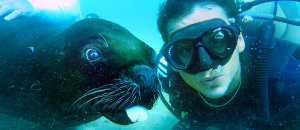 Ages 10+: $139-$149
Tues, Thurs-Sat
It doesn't get any better than this, diving beneath the waves of Banderas Bay with a trained sea lion in its natural environment. Not a certified diver? No worries. A two-hour, $39 intro course will prepare you for a one-tank dive of up to 40 feet. Advanced divers are welcome to join the animals to depths of up to 3x that – still only a fraction of the 500 feet sea lions often swim for food