Puerto Vallarta: Reminding the World of its Allure
by Vanessa Martínez del Río
The grand variety of quality tourism destinations available to travelers has encouraged Puerto Vallarta to renew its identity, and recently the state of Jalisco's Secretary of Tourism began a collective study to rescue the aspects that visitors most enjoy about the city. The efforts translated into a publicity campaign that includes, among other elements, a promotional video and an ingenious logo displaying a fresh new image inspired by the latest trends in color and design.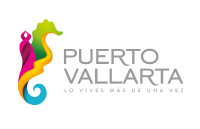 This proposal responds to "the necessity for competitiveness that defines the national and international markets", indicated Aurelio Lopez Rocha, Jalisco's Secretary of Tourism during the press conference held for the launch of the new image. He added, "Today one of the largest challenges for brands is differentiation". Puerto Vallarta's distinguishing features include its natural landscapes and impressive beauty, the warmth of its people and a gastronomic experience enjoyed in restaurants on par with the best in the world. These elements inspire visitors to return year after year, and from that desire to return comes the phrase that embodies the campaign: "Puerto Vallarta: You live it more than once". According to hospitality professionals in this sublime destination, the number of return visitors is very high, and as anyone who has stepped foot in this dynamic corner of the world can confirm, there is simply too much to experience to enjoy it all in one visit. In the words of the Secretary, Puerto Vallarta "is enjoyed at every stage of life", as there are always new wonders to discover.
The logotype uses the quintessential Sea Horse as a symbol of the city, a sculpture by the multifaceted and renowned artist Rafael Zamarripa, which has graced Puerto Vallarta's oceanfront promenade, El Malecón, since 1976. The meticulously-chosen colors for the logo represent the aspects that make this city come alive: red, for the people and their warmth that makes Puerto Vallarta known as "the most friendly city in the world"; green, for the beautiful surrounding mountains; yellow, for the sand and blue, for the sea.