Puerto Vallarta Fishing is a Year-Round Treat for Anglers of All Ages
Fishermen know how helpful it is to have a great guide when casting your line in unfamiliar waters. That's what makes Puerto Vallarta Sportfishing so unique – they know where to catch each fish, as well as what they're biting… & they always are.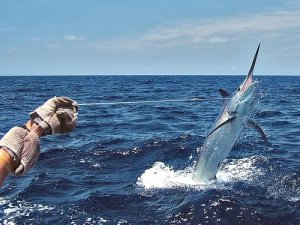 Land a Trophy Catch on Scenic Puerto Vallarta Fishing Trips
Top Charter:
When:
Daily
Where:
Marina Los Peines
(next to Naval Hospital)
Rates:
$325-$1,295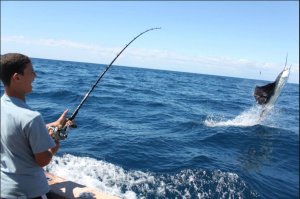 Anglers everywhere know the Mexican Pacific coast is one of the world's greatest fishing spots. Marlin, Tuna, Mahi Mahi – no matter what time of year you throw your line in, the waters are sure to provide. Not only is the sea ideal for a rich variety of species, the weather is perfect for catching them, with 330+ days of nonstop sunshine. Add to all this the jaw-dropping beauty of Banderas Bay, and it's easy to see why fishing in Puerto Vallarta is an angler's dream.
There's Always Something Biting
While a catch isn't guaranteed, it's practically unheard of for anyone on the 4-10-hour guided charters offered by Puerto Vallarta Sportfishing to not come back with at least one great fish. That's because the expert guides know when it's best to try for each species, including: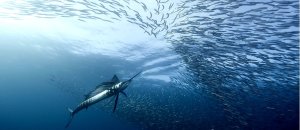 Black Marlin – August-February
Sailfish – September-February
Mackerel – February-July
Wahoo – August-March
Red Snapper – March-May
Mahi Mahi (Dorado) – September-April
Amber Jack – April-June
Tuna – April-October
Grouper – June-August
Blue Marlin – September-December
Where to Find Your Prize Fish
As for where you cast a line, that's up to you. Consider this brief breakdown:
Banderas Bay – Closest, ideal for families, trolling and bottom fishing.
Marietas Islands – Excellent 8-hour trip, with possible humpback whale (December-March) & dolphin sightings along the way.
Corbetena – Considered the best overall fishing, but 1.5 hours each way.
What to Bring & What's Included
A total of six lines will be in the water, all bait, gear, tackle, and fishing licenses provided. Cleaning and filleting your catch is also included, as well as bottled water and fresh-made ceviche along the way. Beer / soda is available at an extra fee (order in advance), or you can always bring your own, free of charge.