Parasailing in Puerto Vallarta Mixes High-Flying Thrills & Sightseeing
No other sport marries the extreme thrills & jaw-dropping beauty of parasailing. Safely harnessed to a colorful parachute, then pulled up to 800ft in the sky by a speeding motorboat – there's no place better to try it than breathtaking Banderas Bay.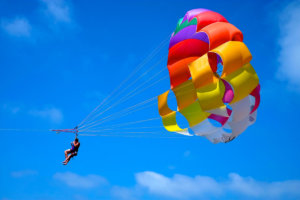 The Breathtaking Views & Thrills of Parasailing in Puerto Vallarta
How many times have you watched a colorful parachute fly through the sky, screams of delight wafting in the sea breeze, as your think to yourself, "One day…?" Well, now is that day! Puerto Vallarta parasailing is among the best in the world, with year-round calm waters and experienced guides everywhere you turn. Once you've chosen who to help get you in the sky, prepare for 15 of the most thrilling minutes of your life, highlighted by jaw-dropping 360º views of Banderas Bay, the Sierra Madres, Downtown PV, and Riviera Nayarit – all from as high as 800 feet! So don't forget your camera!
Follow the Sky to Los Muertos Beach

Easily the most popular place to parasail is off Los Muertos Beach. That's because the wind and surf are stronger to the north, meaning the waters are more crowded. If you opt to make a deal with one of the many guides on the beach, be sure to haggle a bit for a great rate. A few to look out for are Raoul and his pals near Daiquiri Dick's, as well as the company, Pelachino. These two are widely considered among the best – both as speedboat captains and parasail trainers – but you really can't go wrong.
Or Book a Flight with PV Tours
If you prefer to have things planned out before you hit the beach, Puerto Vallarta Tours offers an Extreme Parasailing package you can book online ($49 USD). Rides take flight every half-hour, 10am-4pm. Same-day access to the resort attached to the beach is also included, as is a PV Discount Card that's good at 160+ local restaurants, bars, clubs, and retailers.