Multicolored Experiences in Vallarta
By Verónica Toro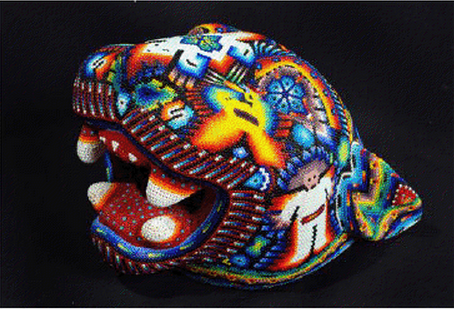 One ethnic group that continues to remain faithful to their traditions and customs in Mexico are the Huichols. These indigenous people commonly live in the states of Jalisco and Nayarit, but some communities are found in Zacatecas and Durango.
Descendants of the Aztecs, the Huichols express their view of the cosmos through the design of traditional objects or paintings, inspired by their mythology through peyote visions. According to those called "shamans", through this practice figures emerge (to them, the divine) that are then represented in intricate multicolored decorations made completely by hand. Men and women of all ages, as members of this great civilization, adorn their bodies with jewelry and their most prized materials: shining beads and radiant threads.
It is very simple to see that their mysticism leans preferentially toward the symbolism of nature: two-headed eagles, lotus flowers, deer, snakes and more. It is all part of their legends and devotion to the gods to whom they refer to as "brothers." The Huichol people share their belief in magic and in the great beyond through the eccentricity of their unique artwork.
By acquiring pieces of Huichol artwork, in addition to obtaining a beautiful object, you are supporting the survival of this historic tribe of artists. The sale of art pieces is their principal source of income.
Puerto Vallarta and the Riviera Nayarit cordially invite you to visit the fascinating, color-filled galleries of the Huichol people.