Enjoy Outdoor Movies in Puerto Vallarta All Season Long
Spread your blanket for a sunset Movie + Picnic of delicious delights from 8+ eateries, right next door to Food Park PV. Screening Hollywood hits every Thursday night through May, it's the perfect way to end a day of fun in the Mexican sun.
Feast Under the Stars at Outdoor Movies in Puerto Vallarta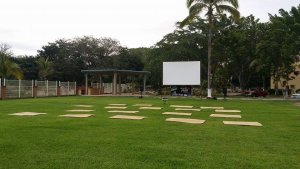 Where:
Next to Food Park PV
Francisco Medina Ascencio 2284
When:
Thursdays thru May, 7:00 p.m.
Admission:
$30-$60 MXN
For the fourth year in a row, vacationers and Banderas Bay locals alike gather every Thursday night for cinema and snacks under the stars at Movie + Picnic PV. Over a mile of grass and gardens welcome audiences to spread out a mat, grab a bag of popcorn, and enjoy the show. Or you can load up on deliciousness from the eclectic neighboring gastro park, home to some of the hottest eateries in town.
Savor Scrumptious Savings at Food Park PV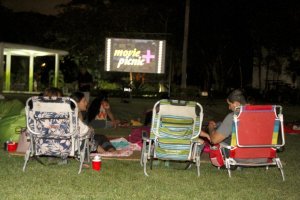 The best place in town to satisfy everyone's cravings is right next-door at Food Park PV. A hip, eco-friendly dining area composed of eight repurposed shipping containers, 3+ food trucks, and an open space with tables, there's no place better to grab a bite for feasting during the night's movie. It's the "picnic" part of Movie + Picnic PV. So what are your options? They sometimes change, but a few mainstays include at least two bars, a coffee shop, dessert spot, superb street tacos, premium burgers and Kansas City Pulled Pork at Truckaburger, and crave-worthy Mexican torta sandwiches from El Chef Gourmet (be sure to try the Torta Tecolota).
What's Showing When?
A total of 30 Hollywood blockbusters and award-winning hits from Mexican directors over the last two decades light up PV's Hotel Zone, every Thursday through May. Here's a taste of what's coming up:
January 5th – "Chronicles of Narnia"
January 12th – "Matrix Reloaded"
January 19th – "Toy Story 3"
January 26th – "American Beauty"
February 2nd – "AI: Artificial Intelligence"
February 9th – "Blindness"
February 14th (Tuesday) – "Eternal Sunshine of the Spotless Mind"
February 16th – "Monsters Inc."
February 23rd – "Atletico San Pancho"
March 2nd – "Edward Scissorhands"
For Updates, Follow Movie + Picnic PV on Facebook.