MOONLIGHT MASSAGE ON THE BEACH AN AMAZING TREAT.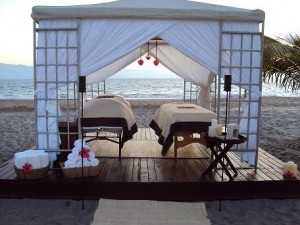 Casa Velas now offers a moonlight massage on the beach.  As the tide comes in and the sun goes down, allow our attentive therapists to cater to you!
Share a relaxing and soothing massage as a couple in our special designed cabin.  Feel the sensation of well-being and relaxation with a treatment dedicated to balancing the body and mind.  Best of all, enjoy this romantic experience under the moonlight and the stars.
The massage in based on soft pressure with a combination of relaxing techniques and specially selected scented oils.  This will all set the romantic mood that will put you in a state of complete relaxation and well- being.
The finale to this celestial experience is a table set just for the two of you on the beach. Indulge in the complimentary champagne with your love, where the two of you can relax under the magnificent stars.
Casa Velas is known for its intimate, warm, and luxurious feel.  Let us spoil you……you deserve it!