Mmmmm! Easy-to-cook recipes from Velas Resorts!
We open this wonderful section to share the most famous recipes among our guests at Casa Velas, Velas Vallarta and Grand Velas Riviera Nayarit.
• Is there any recipe you would like Velas Resorts to publish?  Let us hear from you!
To start up this series of gourmet cuisine, we give you: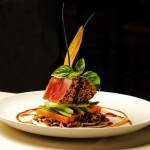 Tuna Sashimi in sesame crust over wild rice and tamarind-mango sweet & sour sauce
served at Emiliano's Restaurant | Hotel Casa Velas
Ingredients:
Sashimi: 200 gr. Red Fin tuna  | 20 gr. white and black sesame seeds | 1 ounce of Agave honey (or bee's honey if not avilable) | 5 gr. chopped parsley | 10 gr. chopped shallots
Wild rice: 100 gr. wild rice | 500 ml. water | 30 gr. pink pine nuts | 2 cloves of garlic | 100 ml. coconut milk | 20 gr. almonds | 20 gr. chopped onion
Tamarind and mango sauce: 50 gr. tamarind pulp | 250 ml. white wine | 100 gr. sugar | 50 gr. mango pulp | 15 gr. butter | salt and pepper to taste | 40 gr. carrots | 40 gr. chayote (mirliton)
Procedure:
In a bowl, mix the soy sauce, agave honey, chopped parsley, and shallots; spread  it over the tuna to marinate. Once marinated, apply the crust with the sesame seeds and let it sit inside the refrigerator.
For the wild rice: rinse the rice with cold water using a strainer, rinse well. Boil the rice in a pot and lower the flame, cook for 45 minutes stirring occasionally draining the excess water. Sautee the pine nuts and the almonds in butter, add rice and the coconut milk until it boils, season with salt and pepper.
For the sauce: in two separate pots, add butter and shallots in equal portions until it is golden Brown, in one pot add the mango pulp, and in the other the tamarind, add the white wine until it reduces 50%, then add the sugar.
Hope you find this recipe as enjoyable as we do!
Bon Appétite!