Mexican Independence Day in Puerto Vallarta Means 3 Days of Fun
A citywide celebration for locals & visitors alike, the Fiestas Patrias honors Mexican Independence Day w/ 3 days & nights of non-stop fun, September 14-16th. Be sure to make it to the Feria del Taco (Taco Fair) to taste your way through the nation.
Non-Stop Fun Over Mexican Independence Day in Puerto Vallarta
You've seen the flags, pinwheels, balloons and garland all over buildings and parks across town – now get ready for the party they're honoring, as PV gears up for three days and nights of family-friendly festivities during the Fiestas Patrias, September 14-16th. Literally translated as "national holidays," here in Puerto Vallarta, Mexican Independence Day means sharing our heritage with the many visitors our city welcomes this time of year. That's why there's literally something for every taste – from a tasty Taco Fair for families to late-night parties for couples and friends looking to cut loose.
The Treasured Tradition of Charro Day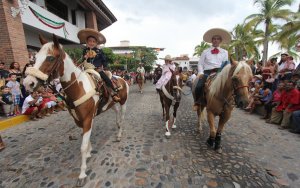 September 14th
As a nation, Mexico is proud of its history as home to the first true "cowboys" in North America, and charro culture is a testament to this feeling. Over 100 traditionally costumed riders in sparkling embroidered jackets ride atop their immaculately groomed horses in a parade that starts at 10am, followed by a 6pm performance on the Malecón.
Independence Eve Fireworks & Festivities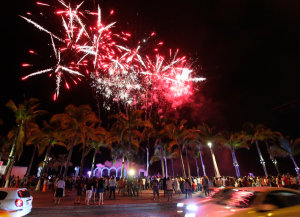 Plaza Principal de las Armas
September 15th, 6-11pm
The main event of Fiestas Patrias is a party in the street, overflowing with authentic food stalls, live music and folk dancing until the mayor's Proclamation of Independence at 11pm. Fireworks soon follow, as clubs and bars across town keep things lively all night – and into morning.
Tacos, Tacos, & More Tacos!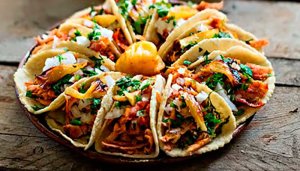 Lazaro Cardenas Park
September 16th, 4-11pm
The 2nd Annual Feria del Taco (Taco Fair) welcomes hungry revelers to kickoff their Fiestas Patrias on a full stomach, as the best taquerias in town serve their succulent creations with a myriad of fillings (fish, shrimp, carne asada, pollo, al pastor, chorizo, etc) and homemade salsas. Admission is free, and classy craft beer offerings will be on tap from Cervecería de Colima.