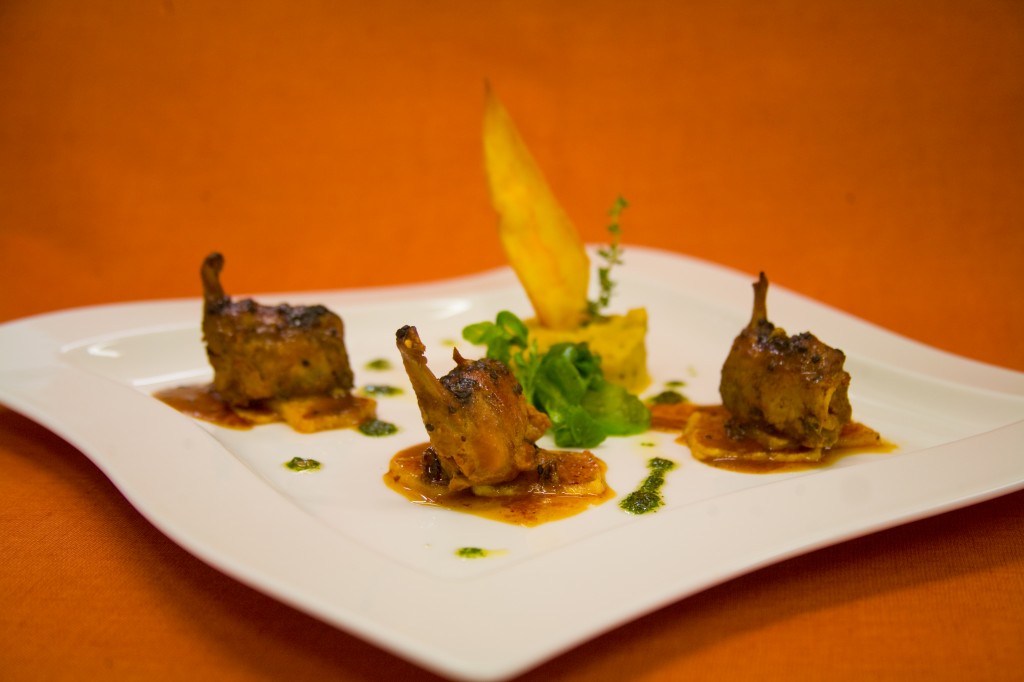 Marinated quail stuffed with duck machaca served with mashed plantain and annatto sauce.
Recipe based on 3 pieces of Quail (boneless, 45 grs. Each)
QUAIL
Duck magret confit 65 grs | Duck fat 3 cups | Poblano chili 15 grs | Onion 10 grs | Garlic 1 clove | Olive oil 12 ml | Salt 3 gr | Pepper 2 gr.
GARNISH
2 plantain bananas | Corn oil 2 cups | Honey 1 tbs | Ground cinnamon 5 grs
ANNATTO SEED SAUCE
Garlic 1 clove | Honey 1 tbs | juice ½ cup | Annatto seed paste ¼ cup | Butter 25 grs | Watercress 10 grs | Salt | Pepper
PREPARATION
•To begin, wash and disinfect all ingredients.
•Heat the duck fat over medium heat. Add your duck magret to the hot duck fat and simmer, or confit it for 45 minutes, until golden and fried. Cool the mixture and shred the meat.
•We then marinate the quail in salt and pepper.
•In a 325 F° preheated oven, place 1 entire plantain for 25 minutes or until the peel turns black and the center is soft. Leave oven on for the quail.
•Peel the 2nd plantain and slice into 3 millimeter-thick slices. Heat the corn oil to medium-high and fry the plantain slices until golden brown. Place on paper towels to drain excess oil.
•Julienne the onion and poblano chili and finely chop the garlic. Heat a few drops of olive oil over medium heat and sauté the mixture. Season with salt and pepper, and add the cooled duck confit. Allow to cook for a few minutes longer to blend the flavors- we now have duck machaca.
•Stuff the quail with the duck machaca, closing the quail around the mixture. Arrange the stuffed quail in a small roasting pan and place it in the 325 F° preheated oven.
•Peel the blackened, soft plantain and mash with a fork to a nice smooth texture. Add the honey and cinnamon and season with salt and pepper.
•Prepare the annatto sauce by finely chopping the garlic and cooking it over high heat with the annatto seed paste and pineapple juice. Allow to reduce for 7 minutes. Turn the heat down to low and add the honey and season with salt and pepper. Cook for 4 minutes and remove from heat. Finish the sauce with 2 pats of butter.
•Use a spoonful of the sauce to marinate the watercress.
•Pour a little of the sauce over the quail and return it to the oven for 11 minutes.
•To serve, place the mashed plantain in the shape of a timbale in the center of a white platter, accompanied by the marinated watercress. Arrange the stuffed quail pieces around the plantain. Decorate the plantain timbale with the plantain chip. Serve with the sauce.
For more informartion please visit Puerto Vallarta Restaurants.