Los Guapos Food Park – Satisfies Every Palate
Looking for a place taste some of the best street foods in Vallarta-Nayarit? Head to Los Guapos Food Park for super tasty tacos, cheesy quesadillas, crispy pizza creations, artfully stacked burgers, and a fully stocked bar with a killer Happy Hour.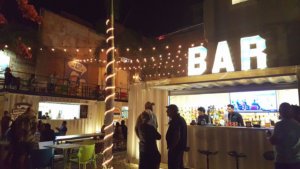 Feast at a Hip, Freshly Opened Los Guapos Food Park
Where:
Los Guapos Food Park
Ignacio L. Vallarta 278
Hours:
Literally translated as "The Handsome Ones," Los Guapos Food Park is the hottest new place to eat and drink in PV's Romantic Zone. Featuring three unique Puerto Vallarta dining options and a fully stocked bar in one place, the design itself is enough turn heads. The warmly lit open-air space features both communal and private tables amid contemporary art, kitchens for each eatery creatively housed in shipping containers that are strikingly stacked atop one another.
Mexican Street Food at its Finest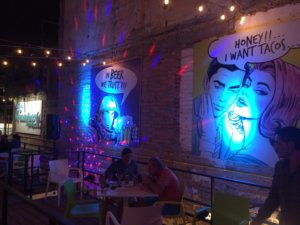 Foodies know the best place to get a taste of a city is on the street. To the less adventurous, this can seem a bit daunting. That's where Los Guapos comes in. Diners get dishes as authentic as they would at a pop-up food stall, only in a hip setting that also serves drinks! Sit by the street and people watch, or head to the top of the shipping containers for an intimate setting with a birds-eye view.
Four Kitchens, A World of Options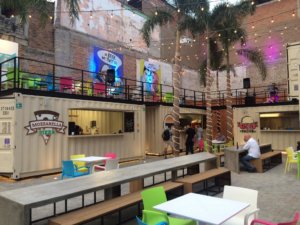 For the most legit bites in the park, you've got to try what Tacos Pacos has to offer. The al pastor (marinated pork, slow-cooked on a spit with a pineapple on top) is some of the best in Banderas Bay, as is the carne asada, and fish if they have it. Tacos, quesadillas, and volcanes (tostadas) are all options, along with recently added options at Burrito Guapo. Outside of Mexican food, other global options include:
Mozzarella Pizza – Crispy thin crust creations like the Muy Guapa (topped with artichoke, Serrano ham, black olives, mushrooms, & basil), and Al Pastor Special make great options for sharing.
Burger Station – Serving mouthwatering starters, hot dogs, burgers and sandwiches, the Popcorn Shrimp, Gaucha (Rib Eye and Chorizo burger with chimichurri sauce and brie), and bacon-wrapped Hot Dog Papito are amazing.
The Bar – The name says it all. This is the place for tequila, margaritas, ice-cold cervezas on tap, micheladas, and practically every cocktail you can name.