Los Arcos Puerto Vallarta with Wildlife & Iconic Sightseeing
An iconic geological marvel in Banderas Bay, Los Arcos Puerto Vallarta is not only one of the most famous sights in the region, it's also home to a rich diversity of wildlife, from colorful parrots and pelicans to manta rays, octopus, & humpback whales.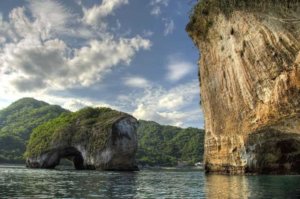 Behold the Natural Wonders of Los Arcos Puerto Vallarta
You've seen them on postcards and in movies, a pair of rocky islands jutting out of Banderas Bay, Puerto Vallarta or the open water in the distance. These iconic formations are known as Los Arcos de Mismaloya. Bearing the name of their neighbor beach village, "The Arches" have been a protected National Marine Park since 1984, a favorite breeding ground for exotic birds like parrots, pelicans, and boobies. As for beneath the water, snorkelers and divers love the usually excellent visibility (60+ feet), dramatic network of underwater tunnels, arches, and caves, as well as the rich diversity of marine life, including giant manta rays, octopus, sea turtles, tropical fish, dolphins, and humpback whales.
Book a Boat at the Beach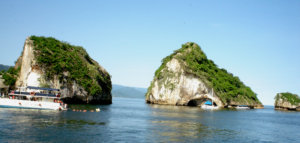 While countless tour providers offer lively cruises with open bars, the best way to get to Los Arcos is arranging a trip with a local guide when you arrive in the area. Consider beating the crowds by starting early, taking the bus or 15-mile drive to Boca Tomatilan, where Karla at Boca Divers (Calle Pelicanos 518) has a great reputation. Or you can always gaze at the park in wonder from its namesake beach, Mismaloya, where guides often offer personal tours with all the necessary gear and a stop for lunch afterward.
Hop Atop a Paddleboard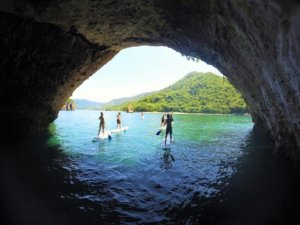 Another great option is getting to Los Arcos on your own, in the company of an experienced friend or few. The quarter-mile swim is not for novices, while stand-up paddleboarding (SUP) is easily one of the best ways to explore the park. If you prefer a tour, Surf Mexico offers an excellent SUP excursion.
Secret Away for the Day
No matter how you get to Los Arcos, be sure to save some time for exploring the many secluded beaches on the southern side of Banderas Bay. Highlights include Mismaloya, home to waterfalls, a tequila factory, and Vallarta Zoo, fresh-shucked oysters in Las Animas, and the quaint, romantic cove of Playa Colomitos.