After 11 Years, Leatherback Sea Turtles are Finally Released in Puerto Vallarta
Early in the morning on Tuesday, March 28, biologists at the Tortuguero Camp at Boca de Tomates reported that after 11 years (or 15, the exact figure is not known) endangered Leatherback Sea Turtle eggs hatched in Puerto Vallarta.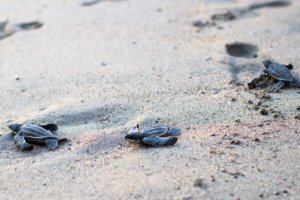 The leatherback turtle is the largest species of sea turtle in existence. They can measure more than 2 meters and weigh more than 900 kilograms. This species is different from the other sea turtles, as its shell has five lines. It is known for being an excellent diver, and can submerge to depths of over 900 meters. During nesting season, they come to tropical beaches and spend the rest of the year traveling north to Canada.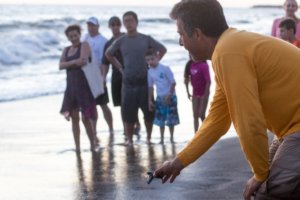 With a spectacular sunset as the backdrop, with guests, residents and local press in attendance, the release of this incredible animal was held at Velas Vallarta Resort at seven o'clock in the evening. Prior to the release, a turtle specialist gave a talk about the animal to inform those present about the importance of the event.

Velas Vallarta and the Tortuguero Camp of Boca de Tomates have been working together for more than 20 years in the conservation and protection of sea turtles. The resort has different environmental programs, and with facilities featuring an incubation area, it offers guests the chance to experience these animals up close as they help with collection and care of eggs, cleaning of nests and turtle release.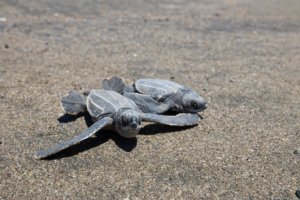 Enjoy the natural wonders of Puerto Vallarta and help us conserve marine species!