Kim Kardashian regresa a Riviera Nayarit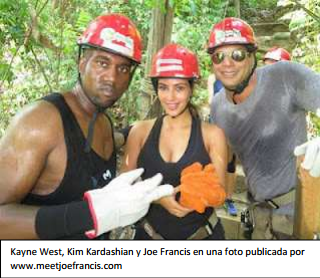 Kim Kardashian y su nueva pareja, Kanye West, pasaron unas inolvidables vacaciones en Punta Mita, reportó su anfitrión Joe Francis
El productor de televisión Joe Francis fue anfitrión en su casa de Riviera Nayarit para un grupo de amigos que incluyó a Kim Kardashian y su nueva pareja, Kanye West, en unas vacaciones de antología que incluyeron motos acuáticas, cocina mexicana y una maravillosa xperiencia en tirolesa.
"Kim Kardashian y Kanye West se relajaron a la orilla de playa, montaron las motos acuáticas zarpando desde la blanca arena de Punta Mita. También participaron en un excitante tour de tirolesa volando entre los árboles del bosque tropical mexicano. También tuvieron una cena con tradicional comida mexicana ofrecida por Joe y elaborada exclusivamente con ingredientes de la región", explica el sitio oficial de Francis (www.meetjoefrancis.com)
No es la primera vez que Kim Kardashian visita Riviera Nayarit. De acuerdo con sus propias declaraciones, la protagonista del reality show Keeping Up with the Kardashians visita cada año este destino, alojándose en la casa de Joe Francis, creador y productor de la serie Girls Gone Wild. La propiedad, asentada sobre una extensión de más de 30 mil pies cuadrados en el exclusivo desarrollo, tiene además dos residencias para huéspedes cada una con su propia alberca.
Jetski's, ATV´s, cancha de tenis y de basketball son parte del entretenimiento. "Su casa es inimaginable, es mejor que un gran resort", ha dicho en ocasiones anteriores Kardashian. Riviera Nayarit se ha colocado en los últimos meses como uno de los destinos preferidos de celebridades, con las visitas de importantes personalidades como el futbolista Thierry Henry, Kate Hudson, Felicity Huffman, Gerry Lopez y las hermanas Kim y Kourtney Kardashian, Lady Gaga, Courteney Cox, Charlie Sheen, Mario Lopez, Sofia Vergara y muchos otros.