How to Plan your Beach Wedding with Pinterest?
Translated by Nyima Bieber
If you're happy with your partner and thinking about taking the big step to the altar, or have already decided and don't know how to start planning, I recommend saving your money on a
wedding expert
and becoming your own consultant using a very practical tool:
pinterest!

This social network has become the leader of images and it can help you to plan your special day; there are many reasons to use it but I'll tell you the main five that will surely convince you to use it.
1-Destinations for Celebrating your Wedding and Honeymoon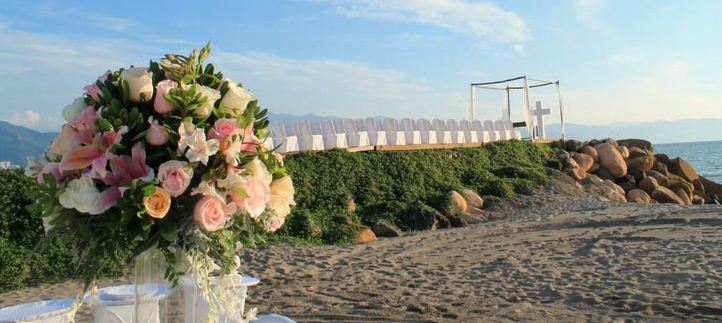 If you'd like to have a destination wedding, you'll find an ample list of places to hold your event and enjoy the perfect honeymoon. In Mexico, the main destinations are
Vallarta-Nayarit and the Riviera Maya.
Don't over-think it and you can make this major life step perfect.
2-Diverse Brides
On Pinterest you can find all kinds of brides; from different countries and with completely different tastes. All you have to do is create an account and start searching for "wedding themes" or "weddings". You're sure to love the results.
3-Current Trends
Aside from finding all kinds of wedding examples, you can learn about the latest seasonal trends; colors, styles of dresses, bouquets, shoes, boutonnieres and more. No matter which detail you're looking for, chances are someone has already posted it on Pinterest.
4-Original Ideas
You can find it all but when we add the fact that there are also
super original ideas
, this becomes the perfect tool. Every
bride
wants her wedding day to be the best and unforgettable, so if you want something out of the ordinary don't hesitate to use
Pinterest
to find the details to
make your dreams come true
.
5-You'll Save Money  
If you add to the four previous points that you can do a lot of
wedding projects
yourself it gets better and better. There are tutorials on how to make keepsakes, invitations and
wedding decor
. Take a look and you'll be surprised by how much is out there.
Try it out and let me know what you think- I'd love to plan my wedding using Pinterest.