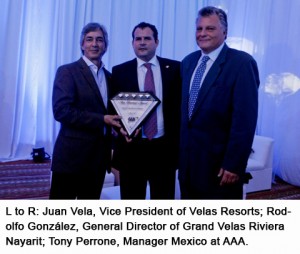 Signature Restaurants – Frida, Lucca and Piaf – Take Home AAA Four-Diamond Award for Fine Dining
Rivera Nayarit, Mexico (March 22, 2012) – The first all-inclusive family-friendly property ever to receive the award in North America, Grand Velas Riviera Nayarit recently accepted the American Automobile Association's (AAA) Five-Diamond Award for the sixth consecutive year. Its "Beyond All-Inclusive, Beyond All-Compare" facilities, service and attention to detail are the key elements that earned Grand Velas Riviera Nayarit the distinguished certification for 2012.
Tony Perrone, Manager Mexico at AAA, presented the award during a gala dinner celebration held at the resort. He mentioned the organization's commitment to recommending the best hotels in the world, adding "Of 31,000 hotels evaluated by the AAA for 2012, only 120 will receive the Five Diamond Award; we know that what we call the 'wow factor' will be present at each one of those hotels from check-in to check-out". Secretary of Tourism for the state of Nayarit, Raúl Rodrigo Pérez was in attendance, along with Luis Angarita, General Director of Velas Vallarta and Director of the Conventions and Visitors Bureau of Puerto Vallarta, and Pierre Yves Bonin Floret, General Director of Casa Velas.
Every year more than 65 AAA/CAA tourism editors visit over 70,000 lodgings, campgrounds, restaurants and attractions throughout the United States, Canada, Mexico and the Caribbean. Tourism editors conduct unannounced evaluations, scrutinizing such areas as cleanliness, ambiance, amenities and service. AAA's Diamond Rating System is the only rating system that covers the United States, Canada, Mexico and the Caribbean and is one of only two that conduct physical, on-site evaluations.
Juan Vela, Vice President of Velas Resorts, recognized the great effort and dedication of the team, specifically mentioning Grand Velas Riviera Nayarit's General Director Rodolfo González, whose 18-year career with the Resorts has made him a key factor in maintaining the same excellent quality standards over the years.
"We are very proud to receive the Five-Diamond for our sixth year. It defines establishments that reflect the characteristics of the ultimate in luxury and sophistication from first class accommodations and extraordinary physical attributes to personalized services and amenities that enhance an unmatched level of comfort." Vela continued, "Our staff strives to meticulously serve and exceed all guest expectations while maintaining an impeccable standard of excellence."