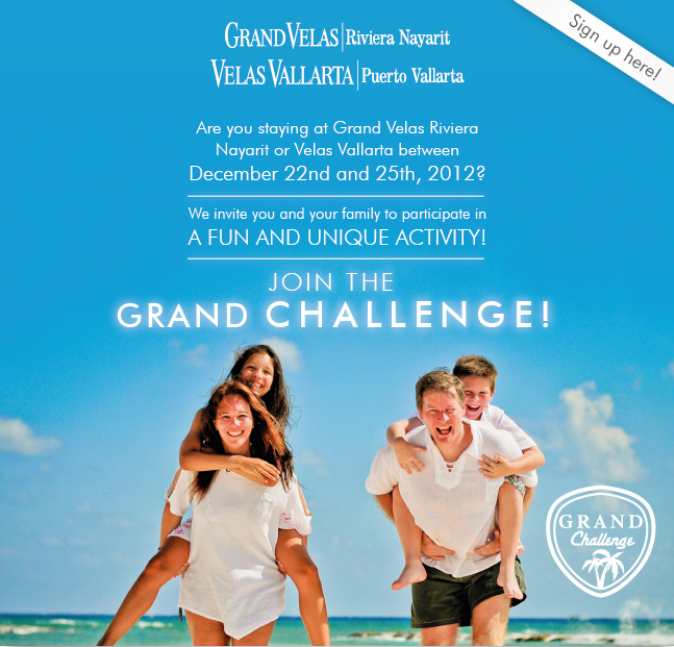 Social Media Contest Sends Families on "Grand Challenge" Scavenger Hunt Throughout Grand Velas Riviera Nayarit and Velas Vallarta December 22, 2012
http://www.vallartatravelblog.com/espanol/grand-challenge-scavenger-hunt-throughout-grand-velas-riviera-nayarit-and-velas-vallarta/
The "Beyond-All Inclusive, Beyond-All-Compare" Grand Velas resorts on Mexico's Pacific Coast are hosting an interactive social media content for families traveling during the holidays.
The "Grand Challenge" is an interactive scavenger hunt at Grand Velas Riviera Nayarit and Velas Vallarta between families, held at both resorts on December 22, 2012. First-place winners receive a 4-day and 3-night stay, in the same resorts they participated, second-place winners receive a free tour with their next stay and third-place wins a discount on the rate for their next reservation. These three prizes will be valid up to two years after each family's check-out.
The Grand Challenge Scavenger Hunt features three families from each resort teamed up with a family of the opposite resort. Made up of several challenges, each challenge is part of a larger scavenger hurt around the properties, showcasing the resort's family activities. Sample questions/challenges Once one of the families from a resort completes the challenge, the activity is passed to the other family to complete until they have together, completed all the challenges. The team to complete all of the activities first wins.
Families register for the "Grand Challenge" through Facebook, http://bit.ly/GrandChallenge. The resort's Facebook page will also broadcast live coverage of the event and discussion is encouraged on Twitter through the #VelasContest hash tag. The "Grand Challenge" is in celebration of Grand Velas Riviera Nayarit's 10th Anniversary and Velas Vallarta's 22nd Anniversary.
About Grand Velas Riviera Nayarit:
Grand Velas Riviera Nayarit, an all-suites and spa resort located just 15 minutes north of Puerto Vallarta on Banderas Bay, is a member of The Leading Hotels of the World and a recipient of the AAA Five-Diamond Award. The resort features 267 spacious ocean-view suites. The crown jewel of the resort and a member of Leading Spas of the World, the Spa at Grand Velas features 20 treatment rooms, over 60 spa treatments, gym and exercise room, spa boutique and beauty salon. The family-friendly resort also offers tiered three- temperature infinity pools, tennis court, 25,321 total sq feet of meeting space and a Kids Club. Nearby are championship golf courses, numerous options for soft adventure, and the charming town of Puerto Vallarta with its many shops, art galleries and nightlife. Grand Velas Riviera Nayarit has received numerous accolades within the industry, including most recently as one of Forbes' 10 Coolest All-Inclusive Resorts.
About Velas Vallarta
Velas Vallarta, an all-suite resort and convention center located on 10 acres of oceanfront in Puerto Vallarta, is walking distance from Marina Vallarta Golf Course and just minutes from Downtown Puerto Vallarta's captivating attractions, activities and landmarks. Situated on the emerald waters of Banderas Bay, Velas Vallarta features 339 suites, a high-tech Convention Center that can accommodate up to 700 people, three swimming pools, a ejuvenating spa, fitness center, multiple restaurants, and an inviting lounge with live music and entertainment nightly.