Fillet of Fish "Valentina"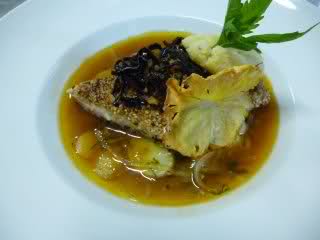 Ingredients
1 8 oz. Mahi-mahi fillet
3 tbs. sesame seeds
3 oz. cambray or baby potatoes
½ cup chopped epazote*
1/3 cup potato purée
3 tbs. loosely packed, finely julienned dried guajillo chili**
3 tbs. loosely packed, finely julienned dried pasilla chili**
3 tbs. loosely packed, finely julienned dried ancho chili**
2 tbs. finely chopped garlic
1 small white onion, sliced
1/2 cup white wine
1.5 tbs honey
Oil
Salt
Black pepper
Cut the potatoes into ½ cm-thick rounds.
In a small-medium saucepan, fry the potatoes in a small amount of oil over medium heat. Season with salt and pepper to taste. Add enough water to cover and a generous amount of the chopped epazote. Allow to cook until tender.
For the chili sauce: toast the julienned chilies with the garlic in a good amount of hot oil for a few seconds, being careful that they don't burn. Immediately add the white wine and honey and allow the mixture to reduce by one third as the chilies soften. Season to taste.
Season the fish and cover with the sesame seeds on both sides. Heat a small amount of oil in a flat pan and add the fillets. Allow to sear for 3 minutes on one side before flipping to finish cooking through.
To serve, place the potatoes with a bit of the cooking liquid in the center of a shallow bowl. Place the sesame-covered fish on top of the potatoes with a dollop of the potato purée. Bathe the dish in the three-chili sauce. Decorate with fresh epazote leaves.
*Epazote is an herb indigenous to Mexico, Central America and South America. It is also grown in some regions of the United States. If you can't find epazote, you can substitute cilantro or oregano to stay within the scheme of authentic Mexican flavors.
**Dried chilies can be found in the produce or Hispanic Foods sections of many supermarkets. They are sold by the pound or in packages. Leaving the seeds and veins in the chilies will make your dish spicier.