Exclusive Gastronomic Festival at Grand Velas Riviera Nayarit
From June 15-25th, the exclusive Gastronomic Festival, the Cuisine of Cordon Bleu's Great Classics from Paris will be held at the Grand Velas Riviera Nayarit hotel, contributing to the expansion of the area's culinary horizon.
French Chef Patrick Martin is an exclusive guest of the complex and thanks to his wide knowledge of different cultures around the world, he will be in charge of supporting the authenticity of the French Cuisine, carefully selecting every ingredient for each dish, giving an exclusivity and luxury touch to the event. Within the festival, the distinguished Pastry Chef Cédric Carême will magnify the quality and delicacy of the program.
.  .  .  .  .  .  .  .  .  .  .  .  .  .  .  .  .  .  .  .  .  .  .  .  .  .  .  .  .  .  .  .  .  .  .  .
Grand Velas Riviera Nayarit keeps its avant-garde on Cuisine and Pastry, granting the exclusive community of Nuevo Vallarta new and unique options to give a step beyond the ordinary.
The Cordon Bleu's International Ambassador: Patrick Martin [ Bio ]
An event Gourmet lovers cannot miss!!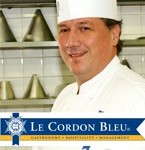 Chef Patrick Martin