High-Flying Puerto Vallarta Bike Race & Mega Ramp Trick Competition
Join 40+ off-road cyclists from around the world, ESPN & Fox Sports for Down Puerto Vallarta 2017, the city's first extreme urban bike race. Starting on the fringe of the Sierras, the half-mile course ramps toward a high-flying finish at the Malecon.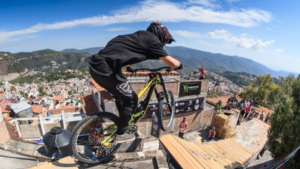 Don't Miss This Jaw-Dropping Puerto Vallarta Bike Race
April 30th
3-9pm
Extreme sports fans are preparing to flock to PV for the city's first urban bike race. Down Puerto Vallarta 2017 welcomes 40+ of the world's best off-road cyclists and thousands of their fans to an afternoon of high-octane racing on Sunday, April 30th.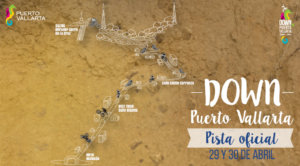 The High-Flying Thrills of an Urban Bicycle Race
What makes PV so perfect for a race of this kind is the very nature of the city. Featuring steep slopes, dramatic descents, towering stairways, tight alleys, sharp turns, smooth stretches to pick up speed, and enough gorgeous sights in every direction to distract even the most dedicated rider, it's sure to present an endless number of surprises.
From the Sierra Madres to the Sea in 900 Meters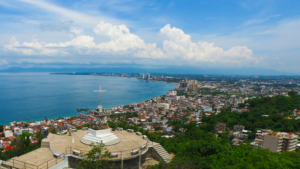 Starting high above the streets of PV at scenic Cerro de la Cruz lookout, the course literally careens for Banderas Bay, with a wall ride turning from Emiliano Carranza to Calle Aldama, where a series of mega ramps await before riders finish at the Malecon.
What's Happening When?
To help plan your spectating, here's a breakdown of the schedule for April 30th:
3-4pm – Warm-Ups
4:30-6:30pm – The Big Race
7-8pm – Best Trick Contest on Calle Aldama
8:30-9pm – Awards Presentation
Featuring the Best Riders in the World
Vying for thousands of dollars in prizes, Down Puerto Vallarta 2017 has invited a collection of the best extreme cyclists in the world, including Franz Grossmann (Austria), Simon Silver (United States), Carlos Castillo (Costa Rica), Antoine Bizet (France), and Bjarke Pederson (Denmark). If you're not able to watch the race in person, tune in to ESPN or Fox Sports, both of which will be covering the event.