Incredible Dive Sites in the Riviera Nayarit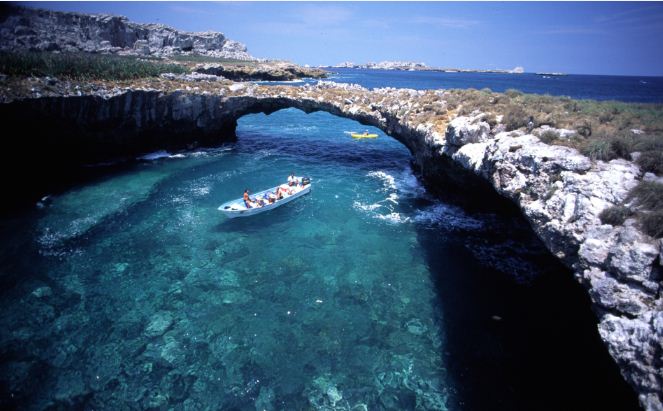 Diving in the Riviera Nayarit is a must for travelers looking for more than just sun and beach. If you have ever wanted to dive with whales, dolphins or turtles, this is your chance!
With more than 984 feet of coastline from Nuevo Vallarta to Novilleros Beach and a rich seabed for adventurous divers, the Riviera Nayarit is home to colorful fish, giant turtles, rays, and other marine species that congregate close to the shore and are easily visible due to the transparency of the water.
Professional guides take amateur or experienced divers to the most impressive spots. The companies dedicated to diving tours are Vallarta Adventures, Nayarit Adventures, Pipilas Tours, and Punta Mita Expeditions.
Marietas Islands
Located in Banderas Bay, Islas Marietas is one of the most popular places to dive in Mexico, with astonishing marine biodiversity. You will be amazed by the colorful fish! The 24-75 foot depth and an average visibility of 39 feet make it an ideal site for beginners. If you decide to venture into the area you will need an oxygen tank. In addition to diving, the island offers kayaking, snorkeling, and paddle boarding.
El Morro
If you are an experienced diver seeking even more exciting adventures, just 7.4 miles west of the Marietas Islands you will find El Morro, (considered part of the Marietas protected area), a series of rocky peaks that extend above the sea with a depth of up to 147 feet. El Morro features amazing vertical wall dives, caverns, and a tunnel over 49 feet long, providing a unique opportunity to see lobsters, turtles, octopuses, sharks, seahorses, dolphins, colorful fish, huge rays and moray eels. Tours must be reserved in advance and are only for small groups of certified divers.
The Anegados
Los Anegados rock bank is a popular site among qualified divers and experts in open water, located in Banderas Bay halfway between El Morro and the Islas Marietas. It is a place full of caverns and rock formations that reach up to 29 feet below the ocean's surface, and in some areas, the depth is 78 feet. It has great marine biodiversity, so it is common to see rays and eels, as well as fish such as tuna and northern pike. Giant rays and sharks have also been seen.
The Corbeteña
La Corbeteña is a remote diving location with moderate currents and depths of up to 118 feet, with visibility ranging from 59-118 feet. It is a dream for any experienced diver, with caves, arches, and sloping walls. Located in Banderas Bay, 40 miles from Nuevo Vallarta, it is a place where all kinds of marine life abound: rays, turtles, sharks, and dolphins, as well as shoals of tuna. Diving in La Corbeteña is only available as a private excursion for groups of eight or more divers.
Coral Islands
Isla El Coral and its smaller neighbor Isla El Cangrejo (Crab Island), are located about 1.8 miles from Guayabitos Beach. Both are considered protected ecological reserves of Nayarit and are the natural habitat of a great variety of flora and fauna. Scuba diving and snorkeling are allowed but in a responsible manner, as the waters harbor small coral reefs. To get to the island you can take a boat from Guayabitos beach, and it is just ten minutes away.
Isabel Island
For eco-friendly travelers, Isla Isabel is paradise! With spectacular landscapes and a great number of marine species and birds, it is also a National Park with a rocky surface including cliffs and panoramic views of the Pacific Ocean. Located two hours by boat from the coast of San Blas, it is home to unparalleled marine biodiversity. Rays, humpback whales, whale sharks, beautiful corals, and 79 species of fish await both recreational and professional divers.
Have you ever been diving in or around the Riviera Nayarit? Please feel free to share your comments, experiences and tips for our readers!
By Haydé Escalante.