Dining with "sazon"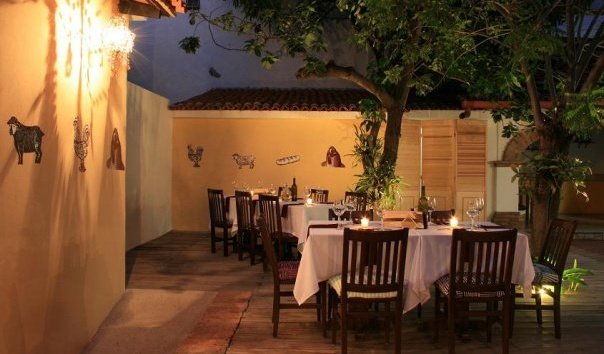 Caio Tres is a treasure restaurant located right downtown Puerto Vallarta, 1 block from the Malecón on Morelos street, right in front of the Cantina bar. Run by three young "Vallartenses" (locals of Puerto Vallarta) with extensive experience in the area, it is the former home of prominent businessman Cayo Curiel, in the historic center of Vallarta.
Chef Oscar Galvan, a native of Mexico City, is a graduate of the Centro Culinario Ambrosía and the winner of the Nacional de Cocina Estudiantil in 2001. He also placed first in the 2006 Copa Vallarta, being awarded a bronze medal by the Culinary Academy of France in the same competition. Galvan was also received a gold medal in the 2006 Copa Azteca and is a member of Group Vatel in Mexico.
The ambiance is romantic to casual, with funky lamps and kitsch decoration, all tastefully matching the authenticity of the place. The excellent service, friendly and professional without being over the top, makes it the perfect place for a cozy night with family or friends, or for a romantic dinner with your partner.
Their kitchen is open from noon until midnight and they offer a varied menu of Chef Galvan's delicious creations including salads, beef carpaccio, pizza, chicken and fish. You can't leave without trying the coconut shrimp and the tuna sashimi, and make sure your keep some space for the "Volcan" an incredibly tasty molten chocolate cake that is to die for.