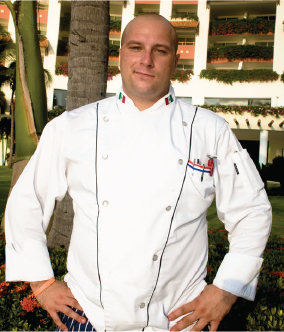 Born near Innsbruck in western Austria, our current Executive Chef began his career at Zillertalen Hotel Branch School; one of the most recognized gastronomic institutions in the country. Upon completion of his studies, he developed his talent in various resorts in Switzerland, learning the different cooking styles of Central Europe. His interest and desire to learn about other cultures and their culinary traditions lead him south, to the coast of Murcia, La Manga, Spain, where he gained experience in Mediterranean cuisine. His next culinary station was Mexico; Cancun, Merida, the Riviera Maya, Puerto Vallarta and today, the Riviera Nayarit.
GET TO KNOW CHEF CLAUDIO:
1. Chef, when did you realize cooking was your passion?
In my younger years, when I observed the great smiles you could make happen with nicely served dishes. My grandma had a restaurant in Austria and served several renowned skiing talents and coaches from all over Europe and North American.
2. Where you inspired by anyone?
Cooking is definitely something I have in my blood; it comes to me by nature. I think my biggest inspirations were my mother and grandmother. I was amazed by their immense patience and creativity. I owe this passion to my family and the place I grew up, where delicious food and good wine are everything. A lot of my inspiration also came from the chefs I got to know when I first started in my profession.
3. How did you fuse European cooking styles with our Mexican cuisine?
Having had the opportunity to live in several countries and experience different cultures, the fusion comes naturally. For example, I love mixing Vietnamese and French cuisine and then spicing it up with Mexican spices. To me it's all about flavor explosions in the mouth.
4. We know you have been in the region for a long time. Is there anything in particular from the area you love to incorporate into your cooking? Any spices?
I'm completely in love with the destination. The things I enjoy the most are the fresh catches from the sea and fun spices like achiote seed, as well as the variety of chilies and fresh herbs this country has.