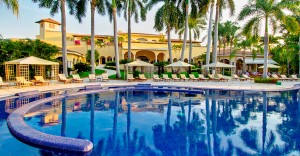 by Vanessa Martínez del Río
Prestigious travel website Luxury Link recommends ultra-luxury properties around the world. The site is commemorating its 15th anniversary by holding a competition inspired by the 2012 Olympic Games. The continued efforts made by luxury hotels to maintain and improve the quality of their vacation experiences is recognized by Luxury Link, and they have nominated the 15 best to be voted upon by travelers. Gold, silver and bronze medals will be awarded to the best lodging establishments. Casa Velas, luxury boutique hotel named Best Hotel in the categories of Luxury, Relaxation/Spa and Romance on TripAdvisor, member of the Leading Hotels of the World and Leading Spas of the World and recommended by Condé Nast, is in the running to take home the gold medal.
Votes will be received online until July 20th, 2012. In addition to celebrating Luxury Link's 15 years of success, participants in the United States will be automatically entered to win a 6-day, 5-night stay at their hotel of choice among the nominees.
Vote online [http://www.luxurylink.com/contest/luxury-hotel-games]