Best beaches in Puerto Vallarta & Riviera Nayarit
During my days in Puerto Vallarta and Riviera Nayarit, I realized that both destinations are known as "the treasure of the Mexican Pacific". Honestly, it's not difficult to believe where the origin of such an ambitious but highly accurate qualification came from: its rich and extensive gastronomy, its vibrant nightlife and natural richness are only a few of the areas strongest attributes making it worthy of bearing this title.
Personally, I think it's the way that Puerto Vallarta's beautiful beaches contrast with the Western Sierra Madre Mountains, which are the jewels of this destination what I have most fallen in love with. Therefore, let me share some beach options that are sure to make you feel the same.
Colomitos
Legend has it that pirates hide their treasures deep within the mountains caves. Nestled in these mountains, far to the south of Puerto Vallarta, you'll find Playa Colomitos, one of the best beaches in Puerto Vallarta, a paradise surrounded by lush greenery that can only be reached by water or by trekking through the jungle.
Boasting an abundant variety of tropical fish, which can be observed here thanks to the clarity of its temperate, turquoise waters, is just one of the many reasons you should visit this beach on your next trip to Puerto Vallarta. As the beach is only accessible by water, to get there, you will need to take a water taxi or boat from Boca de Tomatlán.
Los Muertos
If you'd prefer a beach closer to Puerto Vallarta and its famous "Malecon", then Los Muertos beach is the perfect alternative. Colorfully decorated and boasting traditional architecture, this beach is located in the heart of downtown Puerto Vallarta. The bustling city center offers an abundance of bars and restaurants, allowing you to combine two of the richest treasures of this destination: its delicious local cuisine and this beautiful beach.
One of the city's many attractions is a newly renovated pier, which adorns the landscape and offers an unparalleled view of the Mexican Pacific. This landmark can be found in the romantic zone in old town Vallarta, across the bridge of the Cuale river and just 5 minutes from the Malecon.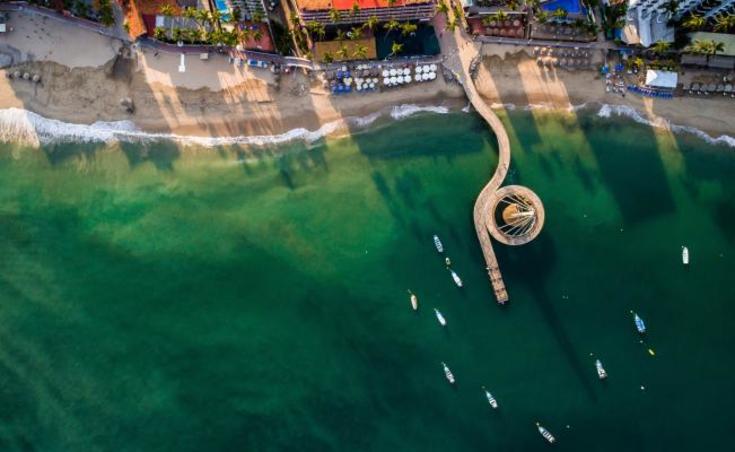 Careyeros
Just north of Puerto Vallarta, in Riviera Nayarit, is a slice of paradise that gives us a taste of what would be the perfect mix between the Caribbean and the Pacific. Hidden between Punta de Mita and Litibú, two of the most popular tourist areas of the region you'll find Careyeros Beach.
For the region in which it's located, it presents an a-typical landscape: soft white sand, crystal clear turquoise waters and a row of copper-colored cliffs, producing idyllic contrast.
Although it can't be classified as a virgin beach, since it has various farms and villas surrounding it, it is seldom frequented, so if you are looking to get away from the crowds of hotel areas, restaurants, and street vendors, this is the ideal beach for you.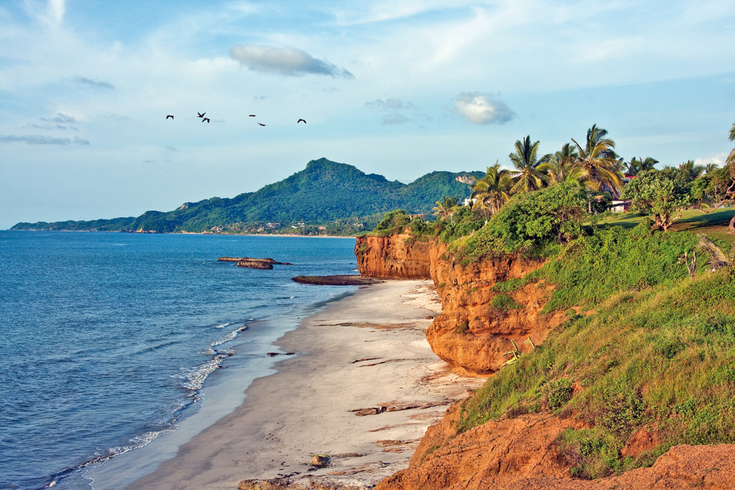 These options for Puerto Vallarta beaches, perfectly represent the different facets of this astounding destination. From the rhythm of the local culture and the endless adventures it offers, to the tranquility and natural beauty that decorate this picturesque Pacific treasure.