Award for Professional Career Excellence: Melin Castro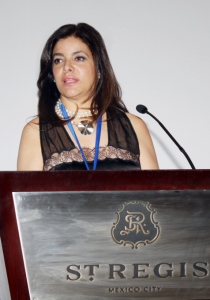 by Vanessa Martínez del Río
The Ibero-American Council of Interior Designers (CIDI) united talented designers from Mexico, the United States and Canada during the 2012 Ibero-American CIDI Awards on June 28 th. During the ceremony council president Juan Bernardo Dolores Gonzalez presented the awards to the work of leading architects and designers.
A special recognition was also presented the same night. The Gold Medal for Professional Career Excellence in 2012 was awarded to Melin Castro Ardavin, for her hospitality industry designs at Grand Velas resorts. She has consecutively won: the 2008 Gold Medal at the III Forum of Women in Architecture and Interior Design 2008-2009 for restaurant Piaf at Grand Velas Riviera Nayarit, the Gold Medal at the V Biennial of Interior Design & Landscape 2010-2011 and the Gold Medal in Hospitality at the IV Forum of Women in Architecture and Interior Design 2010 – 2011, for the interior design of Grand Velas Riviera Maya. This year's award recognizes her entire professional career.
The CIDI is a nonprofit association that links colleges and associations of architects and interior designers from the Americas and the Philippines, in order to consolidate and expand educational and professional ties among professionals working in this tri-continental territory. It also links and promotes the Interior Design industry with universities, learning centers and supply companies as
well as print and electronic media.
The association was founded in the city of Puerto Vallarta, Mexico on October 9, 2009, with the participation of 12 countries and their colleges, associations and highlighted professionals. It was born of the idea of  consolidating the colleges and associations of interior designers and assisting in the establishment of colleges and interior design associations in countries where they previously did not exist.