A cocktail for the Nuestra Belleza beauty contest committee at Casa Velas
Celebrations in Puerto Vallarta are a daily occurrence, and among the events that continue to reinforce the quality of this Pacific beach destination, the semifinal of the Nuestra Belleza Mexico 2011 beauty contest was held at the Puerto Vallarta Convention Center on August 18th. The 34 contestants, representing the women of all 32 Mexican States, gave it their best during the Traditional Wear (awarding only the designers), Swimsuit and Evening Wear rounds of the competition.
The event was a complete success; hundreds of people attended, including family members of the contestants who cheered them on with shouts and whistles of support.
The contest, hosted by actor and singer Jan and Karín Ontiveros, Nuestra Belleza Mexico 2010, lasted two hours and was recorded for television to be aired on Channel 2 in Mexico.
The judging panel was made up of television producer and TV y Novelas magazine editor Juan José Origel, reporter Aurora Valle and actor Gabriel Soto, as well as Jordi Avendaño, official photographer of Nuestra Belleza, Marú Ruiz del Caza, Mexican editor of Hola!, Arturo Velasco, Musical Director of Televisa, cosmetic surgeon José Abel de la Peña, Luis Moya, dermatologist to the stars, and Dafne Molina, producer, model and Nuestra Belleza Mundo Mexico 2004.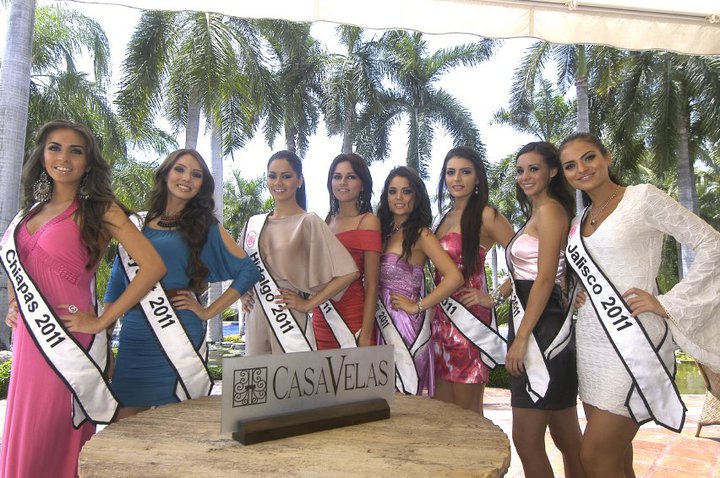 During this stage of the contest no winners were announced; the contestants would have to wait until August 20, for the final. After the semifinal, judges, contestants and organizers were invited to a grand Cocktail Gala at the Casa Velas Ocean Club to enjoy gourmet canapés and tropical beverages in the true exquisite style of Velas Resorts.
To support the young beauties, Miss Universe Ximena Navarrete, graced the festivities with her presence and announced that she would be present for the final, to meet and present the crown to the next Nuestra Belleza Mexico 2011.
After enjoying the event at the Ocean Club, the executive Nuestra Belleza committee moved to Emiliano Restaurant at the hotel, where they enjoyed a gastronomic tour with a dinner prepared especially for the occasion.
Ximena Navarrete, mentioned the world-class treatment and service she had enjoyed to the hotel's General Director Pierre Bonin. "The Spa and food are incomparable; the facilities are beautiful, the staff has pampered me and exceeded both mine and my families' expectations. We have had a wonderful time", stated the most beautiful woman in the world.
She added, just as members of the judging panel, organizers and participants had, that she was left with a great impression of the hotel and of Puerto Vallarta;
"the people are wonderful and always smiling, and the service is first-class."
"I will definitely be back, I loved it here", said Navarrete, upon receiving an exclusive Casa Velas VIP card giving her access to special benefits during her next visit.