For those who think that romantic dinners are way too trite, here we share 5 ideas to freshen up your imagination, and inspire you to pop the most important question of your life during your next visit to Puerto Vallarta – Riviera Nayarit.
After climbing 9 hours they reached the top for this unique moment.
Our recommended spot: La Bufa in San Sebastián del Oeste
Inspired in the Disney movie: UP!
Our recommended spot: Sayulita, Riviera Nayarit
A cute design on the sand to create a big surprise.
Our recommended spot: San Pancho, Riviera Nayarit
Impossible to say no to this dolphin!
Our recommended spot: Vallarta Adventures, Puerto Vallarta
Love is in the air while you skydive with your beloved one!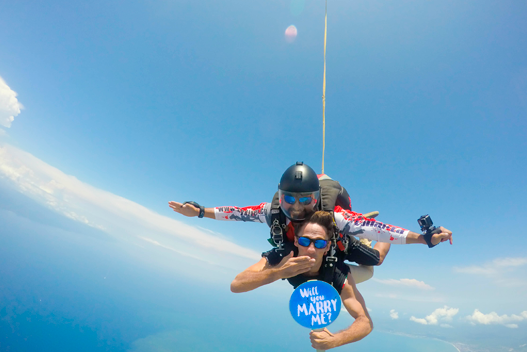 Our recommended spot: Grand Velas Riviera Nayarit, Nuevo Vallarta
Which one would you choose for a happily ever after ending?