Pet lovers usually find a handful of places to spend fun times with their furry loved ones, but this may quite not be as simple when traveling to other countries. Mexico for example, may have started to broaden their pet friendly options, but there are still restrictions for entering certain open and closed areas; Puerto Vallarta keeps the title as the friendliest city in the world by expanding the options for travelers with pets. Restaurants, hotels and recreational spots, galleries and many more, welcome pets to join the fun with their human buddies.
Vallarta-Nayarit Blog presents the 10 places to enjoy with your pets in Puerto Vallarta:

1. Plaza caracol
One of the most traditional shopping malls in the area, Plaza caracol became the first mall to open its doors for pets. It is located in the 'hotel zone' just a few blocks away from downtown; services like beauty salons, apparel shops, gym, language schools and a fast food court showcasing exquisite munchies for every taste can be found here. Fun and entertainment continues with coffee shops, video games salon, cinema and much more.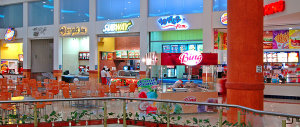 2. Mr. Cream Pancakes & Waffles
The prestigious Marina Vallarta hosts this exquisite pancake house, which has a stunning view of the pier and its lively surroundings full of with stores, restaurants and cafés. Open daily from 8:00 a.m. to 2:00 p.m. it offers a vast breakfast menu including eggs, pancakes, waffles with strawberries and cream, and the traditional chilaquile.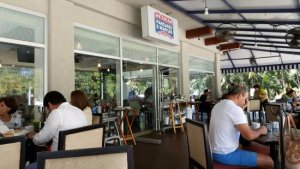 3. Cafe Madero
You can find this coffee shop by the Romantic Zone. Open daily from 8:00 am to 10:00 pm this café has a different concept than other traditional establishments around, with a variety of hot and cold drinks, paninis and salads.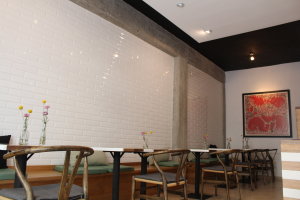 4. Salud Super Food
A healthy option with an exquisite selection of nutritious dishes of fresh fruits and vegetables, perfect to pamper the body. Located at Olas Altas.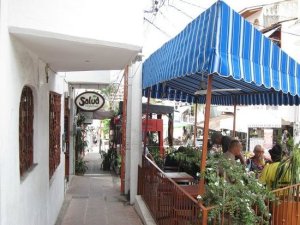 5. Buonissimo
Dessert lovers have a paradise to enjoy with their pets: Buonissimo offers an ice cream bar with delicious flavor options. Tasty baguettes, coffee and crépes are also available.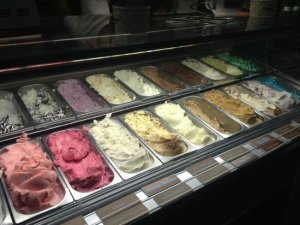 6. Black and Red Bar
If you like enjoying the nightlife with your beloved animals, then this option is for you. Beer, wings, pizza, and rock, the best combination for a fantastic night. Located in Francisco Medina Ascencio avenue.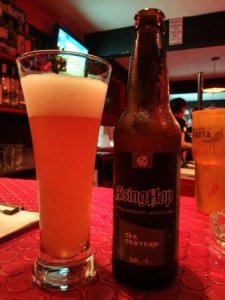 7. Valapanza
Something that distinguishes Mexico from other places in the world: Tacos! Best place in town for famous Tacos al Pastor (seasoned pork with achiote and spices).
Located in Plaza Marina.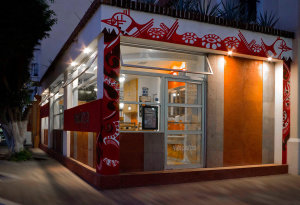 8. Coco's Kitchen
Restaurant positioned in the mind of the locals and visitors. You can find it in the Romantic Zone, a block away from los Muertos beach. This restaurant stands out for spoiling its guests -everything sos delicious. Open daily for breakfast and lunch from 8:00 a.m. to 3 p.m .; and for dinner Monday to Saturday from 5:00 p.m. to 11:00 p.m.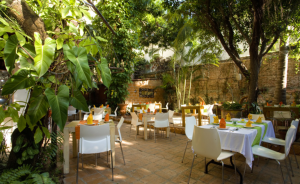 9. Langostino's
Puerto Vallarta is a synonym of fresh seafood. Langostino's offers the highest quality in products and services, with a menu full of delicious dishes to enjoy seafood. Here your pet is a client as well. Here they organize exclusive events for them, like Halloween, and perform a pet costume parade where the most original win a prize. Located in los Muertos beach.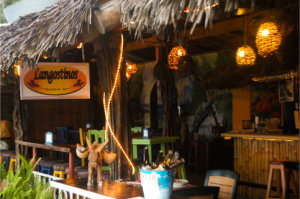 10. La Palapa
Distinguished as the first restaurant by the beach, it has been open since 1958. If you think you can only find seafood, then this place will surprise you with an outstanding offering of exotic dishes. Located on Los Muertos beach, it is a great choice.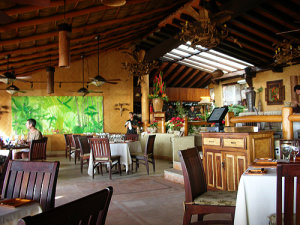 If you don't have a pet but would like to adopt one, Puerto Vallarta has many organizations and shelters that take care of animals and are open to adoptions: Friends of Puerto Vallarta Animals, SPCA or Protective and Compassionate Society for the Animals of Puerto Vallarta and Las Animas Dog Rescue | Puerto Vallarta Dog Rescue.

Do you know of any other place in PV that should be included in the list? Feel free to post!
Photo credit: TripAdvisor y VallartaNoticias