Sen Lin, the ancestral inspiration with avant-garde flavor
My friends and I recently had the chance to visit Sen Lin, the new restaurant situated inside Grand Velas Riviera Nayarit. I found out about its opening in December and its photos caught my attention, It seemed to be a sophisticated environment with Asian tradition.  
From the moment you arrive, you'll begin to experience its true delight for each of your senses. To think that you go to a restaurant to enchant your palate where you can listen to oriental sounds in the background that put you in a relaxed but pleasant mood with decoration that simply captivates the scene.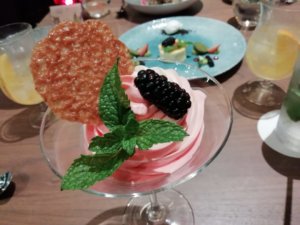 Upon arrival, they take you to your seat which is not a typical chair, but a small armchair so comfortable that you could stay seated for several hours worrying only about choosing the best option on the menu and nothing else. Right after our waiter showed up, they offered us a scented towel for our hands and face, strangely warm, which seemed like a great analogy to what it feels like when a loved one embraces you as you arrive, the warmest welcome for the simple pleasure of being there. And as if that were not enough, they immediately brought us the drink of the house, a cocktail prepared with sake and cantaloupe, creating a moment when with words they emphasize their happiness to see you.
If this pleasant welcome had not already made you fall in love, after ordering we were given a welcome amenity, which, in my case, were scallops accompanied with a cream, a genuine invitation to make you feel comfortable and special.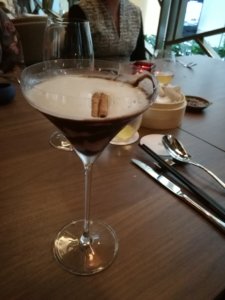 The following is similar to a beautifully orchestrated conversation for each ordered dish, each time it comes to the table, with a retinue of waiters who explain each of the ingredients: tuna tartare for the entree, a miso soup as the second course, lacquered duck Beijing style in crepes and plum sauce as a main course, and in the end, my favorite dish, dessert, a banana tempura with coconut and sesame with chocolate ice cream.
Now, beyond food, another great hit of this beautiful place is that at all times they were very attentive, they asked us if we needed anything or if we wanted another drink and even, when they saw that we were undecided,  we perceived a certain special touch to suggest something that turned out to be a perfect match to our taste, almost as if they knew us.
One of my friends was a bit dubious about going because her vegetarian lifestyle often makes eating out a bit complicated when trying to eat more than lettuce from her home. However, Sen Lin turned out to be the best option for her since they explained that they are able to adapt the menu to your needs even if your choice does not belong in the vegetarian menu.
Another incredible detail was that I was lucky enough to go during a festival that the resort called 'Sabor Cacao', during which all its restaurants have special dishes and cocktails. I ordered a chocolate martini that I loved and another one of my friends asked for the special dish.  Although I was very happy after having been delighted with the duck, I was treated to the beef steak in chocolate sauce, a delight so big that it almost made me commit the sin of gluttony by wanting to order an entire one for myself.
Investigating a little I found Sen Lin's chef advisor, Wayu "Light" Wattanakamin, has been inducted into the Club Master Chefs Thailand. An organization that recognizes the top Thai chefs in the world, with only 20 current members in the club, Chef Light is the only Thai chef in Latin America that belongs to this select club.
With all this, it is no longer difficult for me to know why, just a few months after its opening, this restaurant has already been awarded 4 Diamonds by the American Automobile Association, one of the leading standards in luxury, quality and service standards at a high level.
So if you are staying in Riviera Nayarit and want to captivate all your senses, then you must visit Sen Lin!
By Elizabeth Silva