Café des Artistes, elegance that envelops your palate
I visited Café des Artistes during the Restaurant Week festival, which has been hosted in Puerto Vallarta and Riviera Nayarit since 2005, an event that brings several local restaurants together with three-course menus to charm your palate for three weeks and where each one showcases an innovative menu at a very affordable price.
This event was the perfect opportunity to learn more about the gastronomic specialties of the region and visit as many restaurants as my wallet allowed.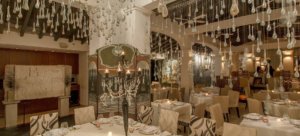 Café des Artistes surpassed all my essentials, from piano to violin music, and a stretch that, as you step forth, transports you to a different setting as their way of welcoming you to their restaurant.
Each of its rooms gives a charming feeling; beautiful and sophisticated, it definitely has the unique style of Thierry Blouet, a visual chef who offers a composition in each of his dishes to captivate the five senses.
The special menu for Restaurant Week included three options for each course, and the dish selection was a challenge as they all seemed very appetizing. My dinner started with an exquisite cucumber gazpacho served in a glass, definitely, one of the most delicious I have ever tasted. A cube of suckling pig confit in black mole and fried plantain as a second course and a fig cheesecake with blueberries gave the perfect closure to this incredible discovery.
While a great restaurant shines for its food, the service makes it invaluable. The tentativeness of waiters who are always mindful of your needs and their accurate suggestions make them the best guides of this sumptuous culinary journey.
Visit Café des Artistes next time you're in Puerto Vallarta, you will not regret it!
Review by Nancy Mendoza