Trips and Flavors
We ventured to experience the Mexican cuisine at Frida Restaurant at Grand Velas Riviera Nayarit last weekend. The architectural accents include high vaulted ceilings and clay-tiled floors that give the space a very cozy and Mexican atmosphere. Lit niches and walls decorated with legends reproduced from the notebooks of Frida Kahlo, the famous painter to whom this restaurant pays homage, are part of the decoration.
The menu presented by the talented chef José Alberto Méndez is a celebration of the flavors and colors of Mexico, adding a very personal interpretation and a contemporary touch. It is worth mentioning that the gastronomy at this restaurant has been included on the exclusive "Four Diamonds" list by the American Automobile Association, the indisputable authority that recommends only the best of the best.
We started with a green aguachile made of fish, jicama, cucumber, tomato, apple and fried charales or small freshwater fish, paired with a bold mezcal, to continue with grilled scallops and roasted potatoes, tomatillo sauce and chilli oil.
The star of the evening was the guacamole prepared at our table, ultra-personalized to our taste, allowing us to select the level of spice and ingredients to enhance the creamy flavor of avocados. The options to crown this ode to guacamole ranged from pomegranate seeds and pineapple, to fried chicatanas (Mexican ants), grasshoppers and maguey worms; we chose the worms. Just imagine the resulting flavor added to the minute hand-maid corn tortillas: simply perfect. Our rating for Frida: 5 out of 5.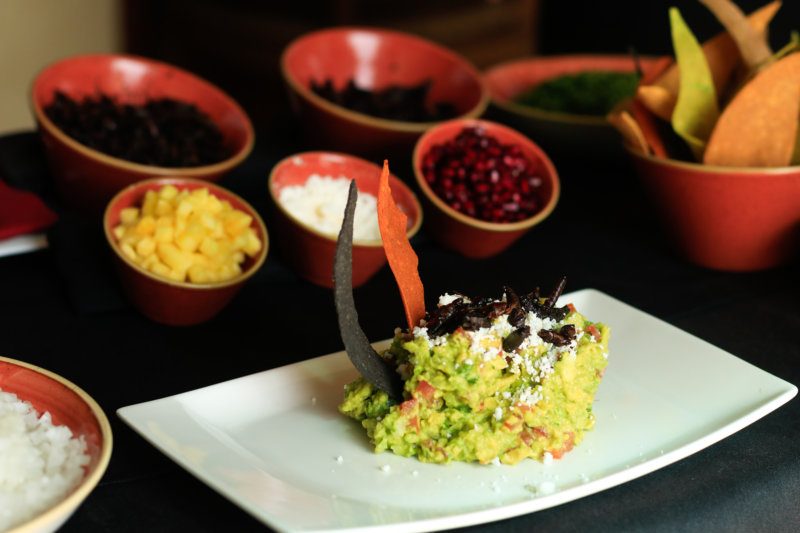 Interesting facts
Guacamole brings many health benefits: the essential fats present in the avocado maintain healthy cholesterol levels in the blood, and its soluble fibers leave a feeling of fullness.
Guacamole is a healthy option for accompanying any food, as it does not use cream, which has a high content of saturated fats. Two tablespoons provide only 45 calories.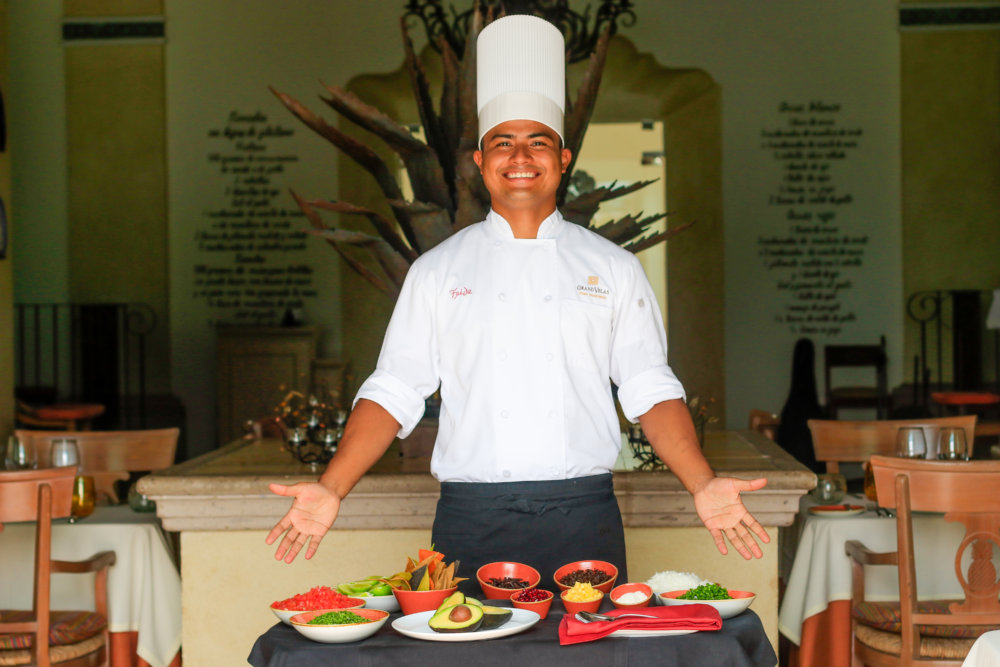 Here we share the recipe by chef Isaac Esparza, Sous Chef at Grand Velas Riviera Nayarit for those who can't make it to the resort soon:
Guacamole recipe
Serves four
Ingredients:
Three ripe medium-size avocados
Juice of three small limes
¼ c. chopped onion
¼ c. diced tomato
1 tbs. chopped cilantro
Salt (to taste)
Optional additions:
Minced serrano chile
Chopped mango
Pomegranate seeds
Chicatana ants
Maguey worms
Roasted grasshoppers
Preparation:
Cut the avocados in half, remove the seed and scoop the flesh into a bowl, mortar or molcajete (volcanic stone mortar).  
Add a pinch of salt and the lime juice to the avocados and mash using a pestle, the  molcajete 'tecolote' or simply with a fork until it reaches the desired texture.
Fold in the onion, tomato and cilantro, and mix until well incorporated.
Adjust the salt to taste and add your additional ingredient. I suggest choosing just one, so as not to combine too many flavors.
Enjoy!
– Chef Isaac Esparza, Executive Sous Chef
See you on our next journey around Vallarta – Riviera Nayarit!